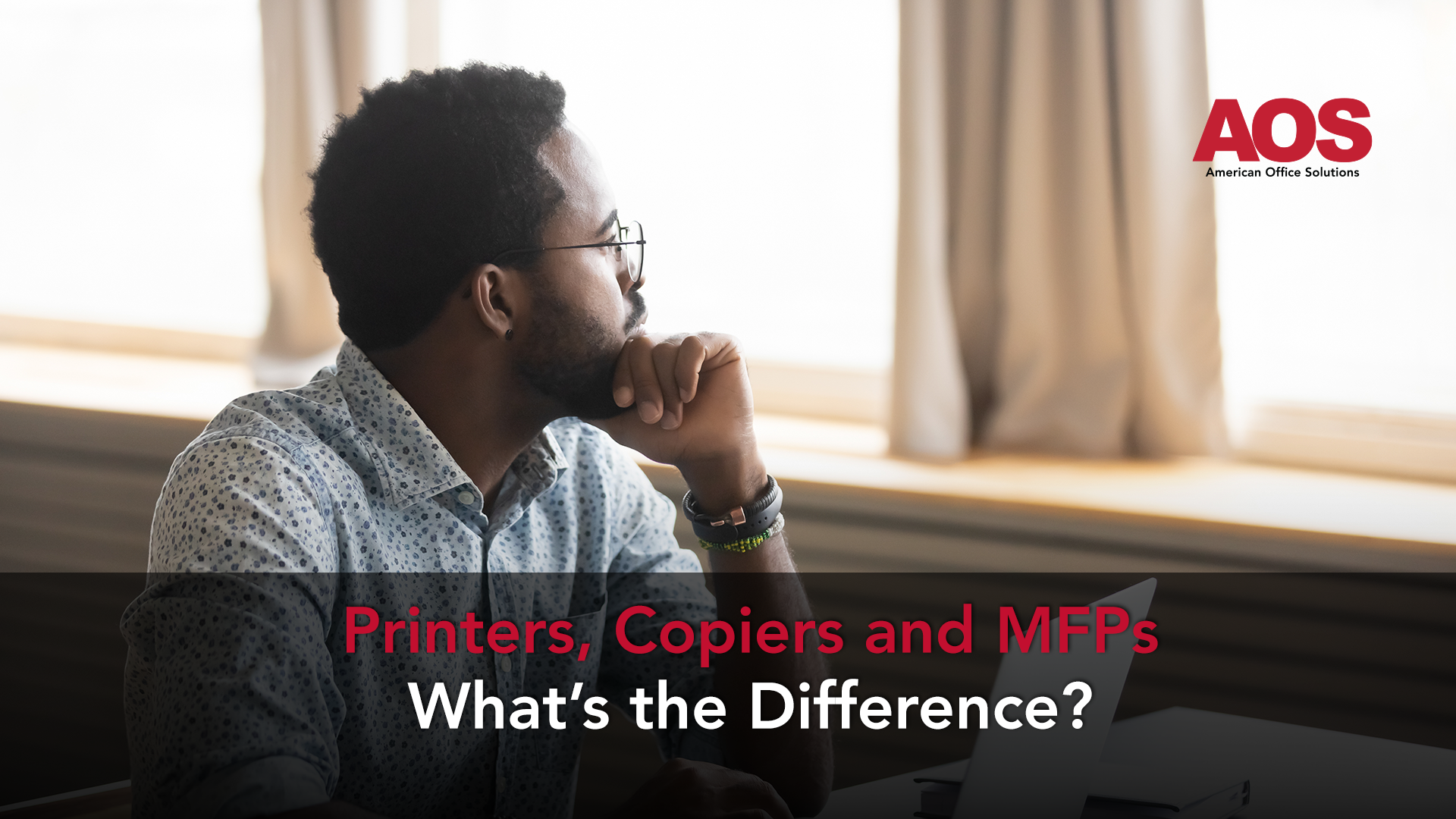 Oftentimes, people refer to printers, copiers, and multi-function printers (MFP's) without differentiating them. However, printers, copiers, and multi-function printers have distinctive functions that affect how they are utilized in an office setting. Whether it is for purchasing a new device for your office or simply using ones that are already there, knowing how these devices differ from each
other can save time and headaches later.

What Is a Printer?
The official definition of a printer is: "a machine for printing text or pictures onto paper, especially one linked to a computer". Although the definition is broad, it captures the essence and function of a printer. These devices make our lives easier by transferring text to paper in a far quicker and neater way than human hands can accomplish with only pen and paper.
Most standalone printers can fit on a desktop and sport lower-capacity paper trays. They use either ink or toner depending on the model. Their sole purpose is to put ink or toner to the page in the form of text or images. One good example of the function and capability of a standalone printer is the Kyocera ECOSYS P6235cdn.
What Is a Copier?
Just like the printer, standalone copy machines only have a single function. In contrast, however, the definition of a copier is: "a machine that makes exact copies of something". The purpose of an office copier is to duplicate pages fed into it.
Copiers as an individual unit are the least utilized printing device in contrast to their counterparts. There are few times where a business would need a copier without the printing function. In other words, the term 'copier' specifically refers to the device that copies papers, yet the term is now applied to any print machine with copying ability.
What Is a Multi-Function Printer (MFP)?
Multi-function printers (MFP's) are often referred to as copiers in modern offices since they also have copy capability. Since it is easier than saying "multi-function printer", it stuck. These larger devices combine the print and copy functions of the previous two machines into one complete package. Numerous attachments can be added onto them such as staple finishers, booklet and tri-fold attachments, hole-punch units, paper trays, scanners, and more.
In the professional world, multi-function devices are used on a regular basis for print jobs or similar tasks. A prime and current example of what multi-function devices are capable of is the Kyocera TASKalfa 3554ci.
What Kind of Device Is the Best Fit for Your Office?
Depending on the size and nature of a business, the need for either a print or copy machine may vary. Normally, standalone copiers are not recommended by vendors since there are very few situations where an office makes copies without printing anything in-house. As such, many vendors in the print solution scene will generally quote standalone printers for small office operations or multi-function devices for medium to large size businesses.
If you are trying to determine what kind of device would fit best in your office, the staff at American Office Solutions would be happy to help answer questions. Helping businesses find the right print solution at affordable costs is something we take pride in. Give us a call at 517-783-2855, and we will happily work with you to find the best print solution for your office.