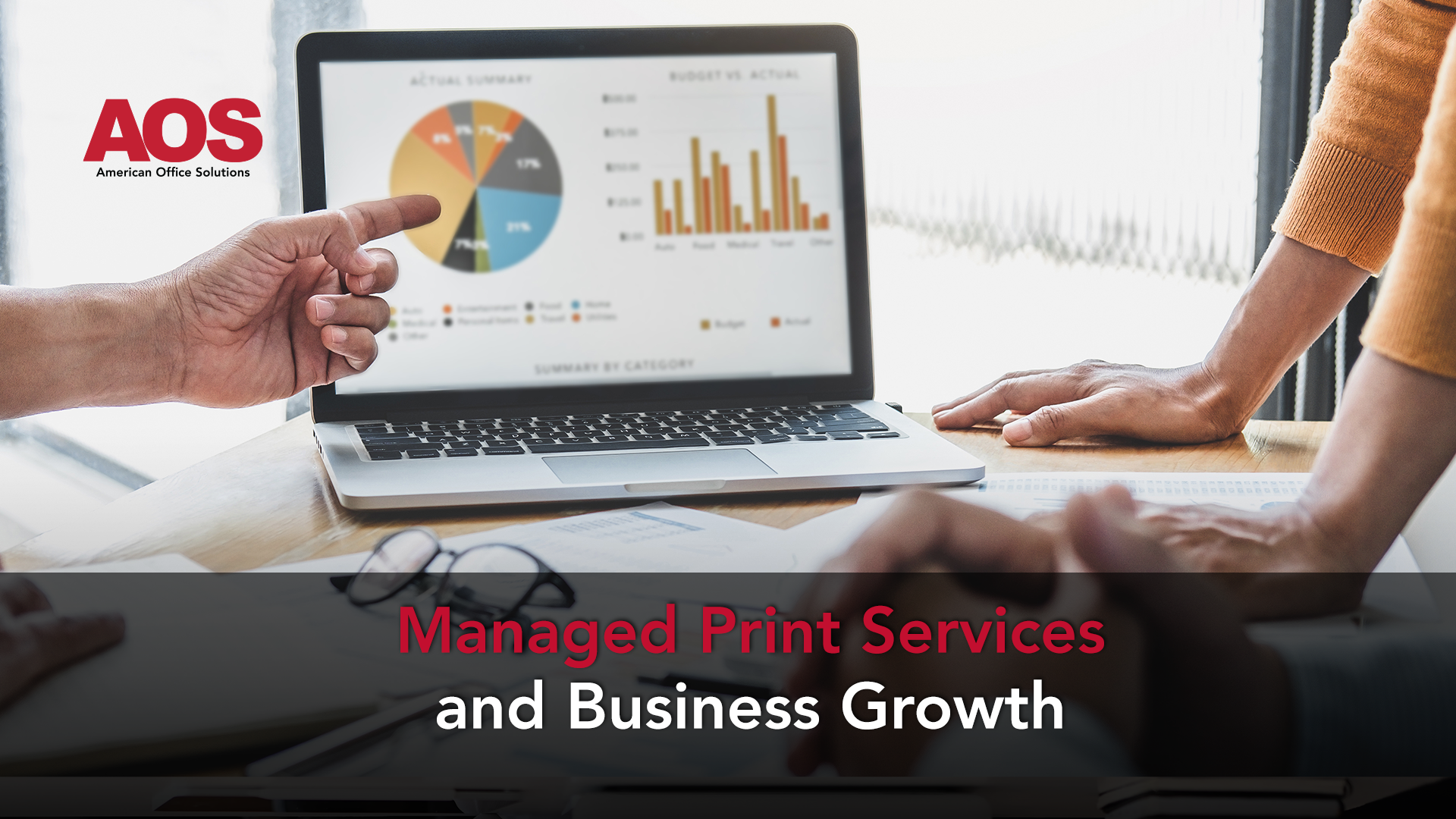 Read Time: 4.5 mins.
Have you ever heard of managed print services (MPS)? You might be wondering how managed print services can grow your business, and there are actually numerous benefits to adding this service into the mix.
Learn more by reading below—it'll give you better insight when you consult with an authorized printer dealer, like AOS, to set up the service.


Benefits of Managed Print Services
If you sign up for managed print services, a third party will manage and optimize your document output. This is an involved process that starts with an audit and needs assessment before creating a printing plan.
Let's go over some of the top benefits you'll receive when using managed print services.


Improve Printing Efficiency
Improving efficiency is one of the keys to growing your business—that's why so many business owners are making the switch to managed print services.
After conducting a complimentary audit and needs assessment, your MPS provider will discuss which devices you need to upgrade and replace to improve productivity and efficiency. The provider can take care of the upgrades and replacements for you to get down to business.
Additionally, the provider can analyze the workflow to ensure that the printers are in the proper locations. If not, your provider can strategically place or sometimes even consolidate them to make them easier or access. The new configuration will reduce congestion while improving efficiency.


Eliminate Waste With MPS
If you don't use managed print services, you likely don't know where all your printing money is going. It's hard to track expenses, so you continue to write extensive checks month after month to handle your printing needs.
Fortunately, you can reduce costs when you partner with an MPS provider. First, you can save money by upgrading to more efficient multifunction printers (MFPs), but that's not all. Your MPS provider will also create reports that show printer usage by employees and departments. This will allow you to look for waste and then set a printing policy to reduce it.
For instance, you might discover that employees print in color when it's not necessary. Your MPS provider can set quotas and rules to prevent this from happening. The provider can even grant color printing privileges to some employees and departments but not others.
Additionally, the rules can reduce the number of documents employees can print, so they will only use the printer for work instead of personal usage.



Automatic Consumable Replenishment
It's hard to grow your business if your MFP is down for the day because you're out of toner. If you replenish the toner yourself, this might be a common occurrence at your office. After all, you are busy, so it's hard to get the timing right when ordering replacement toner.
That will be an issue of the past if you partner with a managed print services provider. The provider will use remote monitoring to check your consumables.
When your toner gets low, it's monitored and automatically shipped to your office before you lose access to your office printer. Thus, you can keep your machines up and running at all times.


One Point of Contact for Printing Needs
Right now, you likely use an assortment of vendors to handle your printing needs. It's hard to grow your business when you're constantly trying to track down the right vendor. You can avoid this problem by using managed print services.
The MPS provider will be in charge of all of your printing needs, so you'll have a single point of contact. It's much easier to meet your office's printing needs when one company takes care of everything for you.


Grow With Managed Print Services
If you're focused on growing your business, you need a flexible printing solution that can meet your ever-changing demands. You'll find this with managed print services. Your MPS provider can stay on top of your business's evolving needs and make changes to your printing environment as needed.
You won't even have to let your MPS provider know when your needs change. Instead, the company will know by reviewing reports and monitoring your devices remotely. Of course, you're also welcome to reach out to the provider at any time to discuss your needs.


The Final Say: Partner With an MPS Provider to Grow Your Business
A managed print services provider can support your needs while growing your business. Then, you can focus on other aspects of your company without worrying about print management.
AOS has partnered with businesses since 1969. As a local authorized printer dealer and service provider, we are a true partner to every company we serve. Contact us today so we can conduct an audit and assess your needs. Then, we can set up managed print services to help you grow your business.