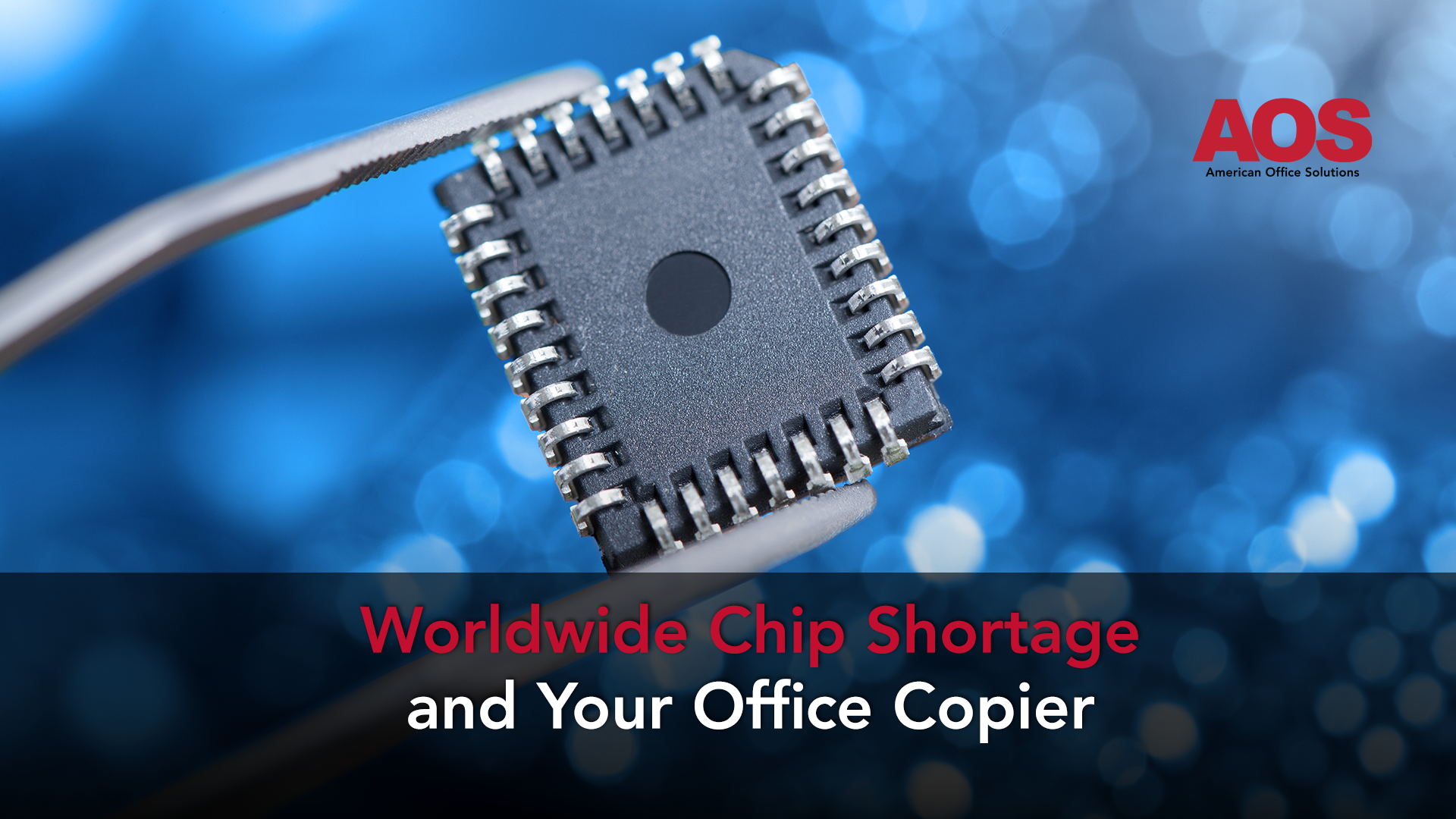 Read Time: 4.5 mins.
The last couple of years has been a real challenge for people around the world. From the shelter in place orders to supply chain issues, each week seems to bring a new obstacle.
Now, you can't help but wonder how the worldwide chip shortage will impact your office copier. While it's true that copiers are on backorder, there are ways you can get around this.
Find out how you can rise to the challenge and keep your printer in great working order during the pandemic and beyond.


Partner With a Local Authorized Dealer During The Chip Shortage
While some people are waiting to buy or lease a new office copier until the worldwide chip storage comes to an end, that isn't necessary. Instead, you can get in front of this problem by partnering with a local authorized copier dealer.
Let's take a closer look to see how your copier dealer can help you meet your printing needs during the chip shortage. Then, go over some steps you can take today to ensure your office remains productive and efficient, regardless of supply chain issues.


Keep Your Copier at the End of the Lease
Local dealers have flexibility when addressing concerns, meaning you'll get more options when you go this route.
On the other hand, manufacturers are locked into their role. They can't make adjustments for a single customer, which can be a serious problem if your current lease is about to expire. You know that machines are on backorder, so you might not be able to replace the machine.
At the same time, you don't want to roll over your lease, locking you into another year of payments.
Fortunately, your office copier dealer can help with this. Instead of rolling the lease, your copier dealer can help you keep your equipment on a month-to-month basis.
Then, when new copiers are available, you can give back your leased equipment for a new machine. You'll be hard-pressed to find a manufacturer that offers this option.


Ensure You Receive Authentic Consumables
Your copier dealer can also help you navigate the complicated process of replacing consumables during the chip shortage.
You might not realize it, but the shortage has impacted consumables almost as much as it's impacted copier machines, and it's making it harder for offices to handle their printing needs.
For example, Canon recently stopped including copy protection chips in its toner cartridges. These chips are used to ensure that customers use authentic toner products in the copier machines.
Now, customers get an error message when inserting these toner cartridges into their machines and have to do a workaround to use the toner.
This can be confusing, and it also increases the risk of buying off-market toner. Your copier dealer can help you with this issue by handling all your toner orders. The copier company can also show you how to install toner cartridges that are missing chips.
In other words, your copier dealer will help you stay up and printing during this shortage. This might be an unprecedented time, but your local dealer is ready to rise to the challenge.


Dealers Can Help You Partner With the Right Manufacturer
If you want to navigate the worldwide chip shortage as easily as possible, you also need to partner with the right manufacturer.
Each manufacturer is handling the shortage differently, so the company you choose will have an impact on your ability to meet your printing needs.
Fortunately, your authorized copier dealer will help you choose the manufacturer to partner with during the pandemic and beyond. This will be based on various factors, including the company's transparency and ability to navigate the chip shortage.
For example, your dealer might recommend that you partner with Kyocera due to the company's transparency. The company's president, Oscar Sanchez, regularly updates customers and dealers to explain how it's handling the situation.
This includes monitoring the supply chain and finding solutions to get products to customers faster.
This is just one option. Your office copier dealer will go over each company and help you select the right one for your needs.


Steps to Take Today
Now that you have a basic overview of how the right dealer can help you during the worldwide chip shortage, it's time to look at some steps you can take today.
These steps below will help you stay proactive, limiting the impact of the worldwide chip shortage:


1. Speak With Your Copier Dealer

First, take a few minutes to reach out to your office copier dealer to discuss your options. The copier dealer should be able to explain how the company will support you during the chip shortage.

This includes using various connections and resources to ensure that you have everything you need.
During your conversation, you'll realize just how flexible and versatile copier dealers are. They're here to help you overcome obstacles and meet the demands of your busy office.


2. Make Plans for an Expiring Lease

If you're currently locked into a lease, review your contract to find out when it expires. Then, you can take steps to ensure you have the equipment necessary when the lease is up.
If you still have six months on your lease, your copier dealer might be able to get a new machine in time. However, you do need to start the process immediately.
If you don't have as much time, consult with your dealer about going month-to-month while waiting for a new multifunction printer. Then, you can keep your existing equipment while waiting for the new office copy machine.


The Final Say: Your Copier Dealer Will Help you Navigate the Shortage
You don't have to try to make it through the worldwide chip shortage on your own. Instead, partner with a local authorized dealer to ensure your office stays functional in spite of the supply chain issues.
AOS has served as a printing partner since 1969. Right now, we are using existing relationships with manufacturers and suppliers to help clients overcome the shortage and continue meeting their printing needs. Reach out to us today to discuss how we can help you during the worldwide chip shortage and beyond.