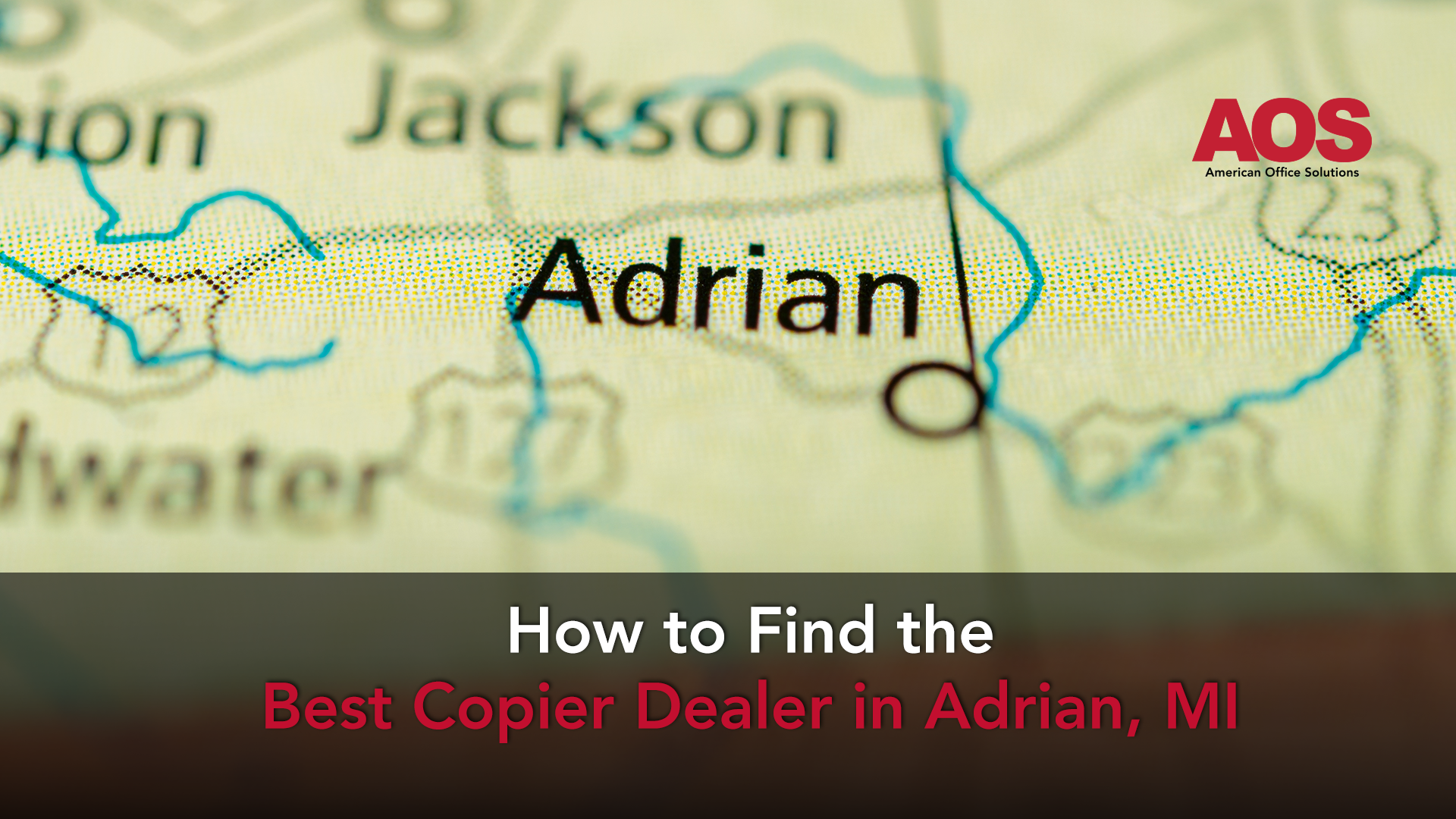 Read Time: 5 mins.
Are you wondering how to find the best copier dealer in Adrian, MI? Finding the best dealers is important since you'll enter into a relationship with the company for years to come.
If you're leasing, that relationship will last at least three to five years. Even if you purchase your multifunction printer (MFP), you'll want a support/service and maintenance agreement, meaning you'll need to stick with that company for several years.
Find out how to find the best copier dealer in Adrian, Michigan, so you can get the most out of the partnership.
Manufacturer vs. Authorized Dealer: Which Is the Best?
During your search for a copier dealer, you'll come across manufacturers and local authorized dealers. While both sell and lease copiers and provide support/service agreements, that's where the similarities end.
If you truly want the best, it's wise to go with a local authorized dealer, like AOS. Check out some of the reasons why local dealers are the right choice.
Fair and Competitive Pricing
You might think that local authorized dealers have higher prices, but that's a myth. In reality, local dealers generally have lower overhead, allowing them to sell and lease products for less. If you want a great deal on your new or leased copier, it makes sense to go with a local authorized dealer.
You can learn more about pricing by reading our blog, How Much Will It Cost to Lease an Office Copier or Printer?
Top Customer Support
When you partner with a local company, you can expect a high level of customer support. Local companies have a way of treating each business as its only customer, meaning you can expect each employee to do everything possible to make you happy.
This includes fast response times for repairs and phone support. This would also include remote monitoring with automatic toner replenishment.
Access to More Products and Services
If you choose a manufacturer, it'll have one brand of copier to offer. That means you might not get the best business solution for your needs. Fortunately, authorized copier dealers often have numerous brands, allowing the company to match you to the best one for your small business needs.
Additionally, authorized copier dealers generally have other products and services that you might not find from a dealer. You can get much more out of the contract with a local dealer.

Questions to Ask When Vetting a Copier Dealer
Have you found a copier dealer that you think might be the best, but you still aren't sure? Let's go over some questions you should ask to ensure you're entering into a solid partnership.
How Long Has the Company Been in Business?
First, make sure that the copier dealer has been in business for enough time to learn the ropes. While every company has to start somewhere, you'll benefit if you choose one that's been serving customers in Adrian and throughout Michigan for decades.
What's their Client Retention Rate and Local References?
You want to ensure other local clients are satisfied with the support and level of support they're receiving from the provider, as well as the percentage of clients that continue to partner with the dealer.
Does the Company Have Access to a Large Inventory of Parts?
You don't want to wait for days or weeks for a part to come into the company. Ask the office copier dealer if it keeps parts in stock to address problems quickly.
What's the Average Support Response Time?
You can't run an efficient office when your copier is down. With that in mind, find out how fast the company responds to copier service calls. Make sure the copier dealer responds within a few hours, or you could end up going into the next business day, waiting to find out what's wrong with your copier.
What's Included in the Support/Service you Receive?
The top company would provide full support and a variety of services to take the hassle out of your copy and print environment. Ask what's available before agreeing to a contact. Make sure that you will get all the services you need in the same place.
The Final Say: Who Is The Best Copier Dealer in Adrian, MI?
With an average response time of 2.8 hours, decades of experience, and numerous satisfied customers, AOS is a fantastic choice when looking for an office copier. We carry brands from multiple manufactures and sell or lease equipment. Also, you can use our managed print services and more. Make sure to contact our team today to discuss your office copier needs.