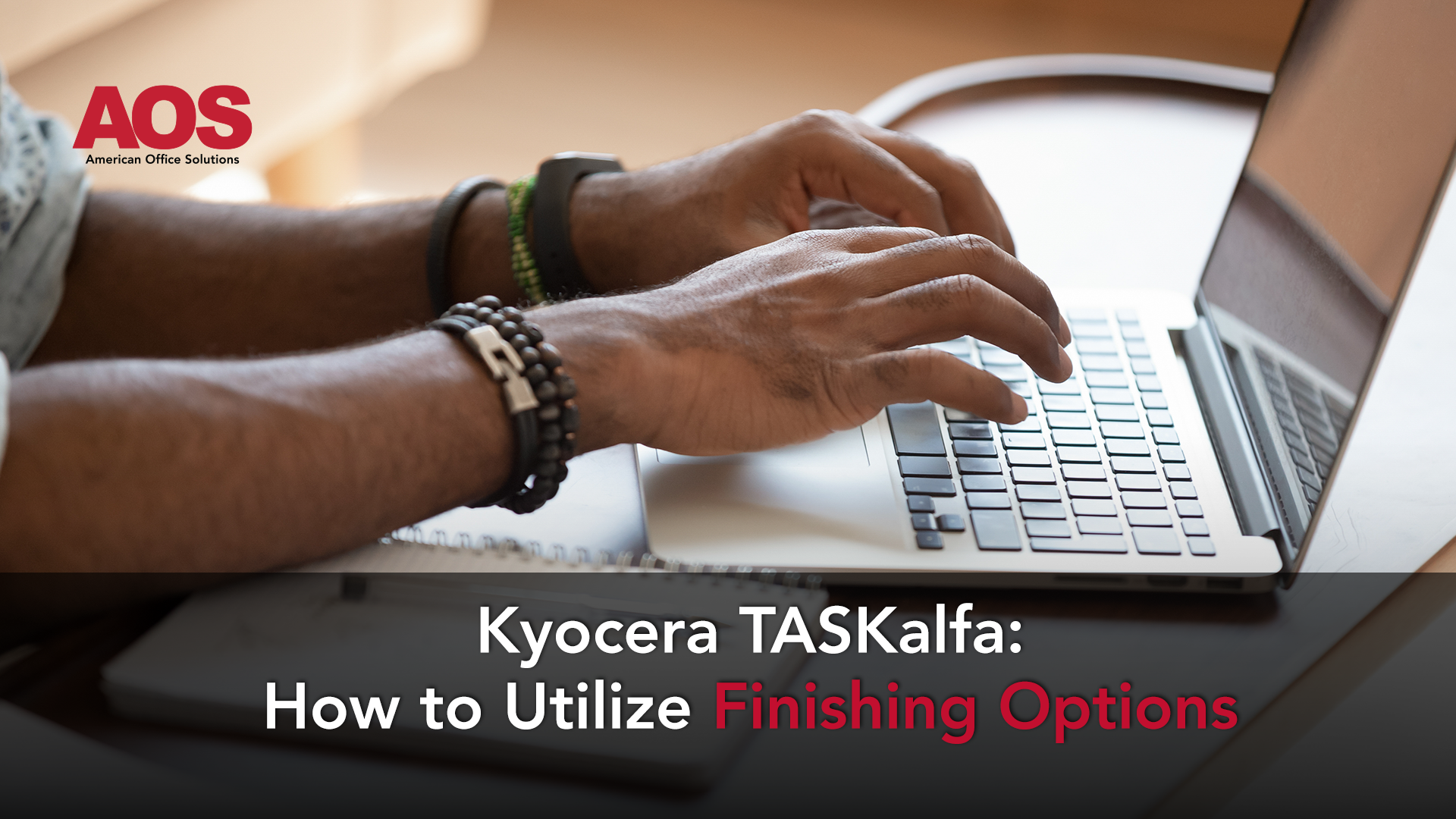 In the business world, finding ways to save time without cutting corners is a necessity. Multi-function printers can support several finishing options that contribute to both convenience and efficiency in the workplace. Finishing options for any copier are a worthwhile investment for businesses looking to improve workflow. Kyocera TASKalfa copiers in particular support numerous beneficial finishing options.
What Is Finishing on a Copier?
In many fields, finishing refers to the manufacturing completion of a product. Basically, it means the product receives polishing to give it a more appealing surface. While that definition partially fits how finishing works for copiers, it does not fully cover the extensive functions available for them. On copiers, finishing includes more functional things like stapling, paper folding, and hole-punching.
Three Main Types of Finishing on a Copier
There are three main types of finishing utilized by countless companies that print documents on a daily basis. Those three types are stapling, paper-folding, and hole-punching. All three are self explanatory but have multiple options to personalize how they are used. Underneath each of these options are plenty of sub-options to customize where and how they affect the document.
The stapling function can be used to automatically staple documents as they are printed. Staple finishers save time and increase work efficiency. With a staple finisher attachment, manually stapling page-by-page will become a thing of the past.
The paper-folding finishing option, sometimes referred to as saddle-stitch or booklet, is just as it sounds. It folds documents. For example, from Church bulletins to documents that need to be mailed, all require folding. Especially in cases where several documents need to be folded, this finishing option will be there to save the day and help you avoid paper cuts.
The hole-punching option is also self-explanatory. Using an attachment on the external finisher, the copier can punch holes in document margins. For businesses that need to file documents into binders or folders, the hole-punch finishing option is a life-saver.

How To Use Finishing Options on a Kyocera TASKalfa Copier
Applying the possible finishing options of a Kyocera TASKalfa multi-function printer only requires a few steps. It's important to note that in order to access finishing options you need to have a copier that supports these features. If you don't have a copier that can fulfill this request it's recommended to reach out to your copier provider who can discuss upgrading your copier. To get started on using the finishing options for staples or hole-punch on your copier, simply follow the directions below.
Open a multi-page document in Microsoft Word
Click File > Print
In the Printer Name drop down, select an MFP with stapling capabilities
Click properties
Click the Finishing tab
Check Staple or 3 Hole Punch
Click OK
Click Print


Using saddle-stitch or or booklet folding options requires a few extra steps, as seen below.
Open a multi-page document in Microsoft Word
Click File > Print
In the Printer Name drop down, select an MFP with stapling capabilities
Click properties
Click the Basic tab
Change the Print Size to Ledger (11 x 17) [129%]
Click the Layout tab
Under Booklet, check Left edge binding
Click OK
Click Print
After following these steps, the printed document should come out perfectly stapled, hole-punched, or folded.
The Final Say: Copier Finishing Helps Save Time and Save Money
Using the above instructions should allow anyone with a Kyocera TASKalfa copier to utilize finishing attachments on their device. When the finishing options are applied, you will definitely not return to manually stapling or folding documents. Internal finishers and external finishers on Kyocera TASKalfa copiers save large amounts of time and hassle and are a perfect addition to any modern office.
For those located in the Western, Central/Mid, and Southeastern Michigan area, American Office Solutions is ready and able to provide Kyocera devices along with finishing options at an affordable cost. If in need of a dependable copier with useful finishing options, go ahead and give us a call at 800-346-6920. We are always more than happy to assist you in providing a copier for your company.