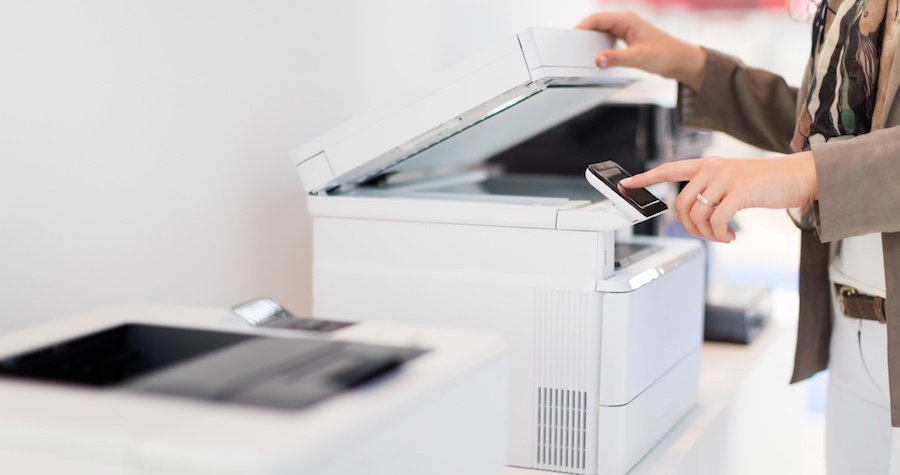 An important part of sustaining business growth is empowering employees to focus on critical functions that contribute to the bottom line. Some growing pains, if not addressed, can distract employees from those duties and direct attention away from what's most important.
One such area that's often overlooked is a company's print environment. When a business grows, the demands on its copier and printer fleet increase. Time spent dealing with paper jams and waiting for repair technicians to show up robs valuable time from workers, and unexpected repair costs, wasted paper, excessive toner use and other print-related issues add up.
A smart way to even out cash flow and minimize disruptions caused by outdated or poorly maintained printers is to enlist the help of a Managed Print Services provider. This solution can help you experience less downtime by implementing the latest print technologies and preventative maintenance plans, can reduce your overall print costs considerably, and create greater satisfaction among employees. Here's how.
1. Support Your IT Efforts
The reality is that many growing businesses lack the IT support they need to address computer needs, network issues, server maintenance and other necessities, let alone to spend time fixing printers. Many of today's devices are complex machines that can print, email, scan, fax, store data and perform other functions, and each brand requires different network configurations and parts, has unique error codes and will require varying degrees of maintenance.
A Managed Print provider has technicians with highly specialized training to perform preventative maintenance, quickly pinpoint issues and implement solutions, allowing your already taxed IT personnel to focus on other critical functions.
Assessing your current print fleet can take considerable time, but it's essential if you want to understand where your resources are being spent. Rather than adding this additional task onto your IT department's list of duties, enlist the help of a Managed Print Services provider to perform a no-cost needs analysis and identify potential cost savings.
2. Consolidate Your Printer Fleet
Over time, it's not uncommon for businesses to accumulate multiple printers of varying brands and functionalities. Not only is maintaining them difficult, but they often contribute to inefficiencies within departments. A Managed Print provider can help identify the most sensible and efficient placement of printing equipment to ensure they're easily accessible for employees. Often, once an assessment of existing printer usage is conducted, it's determined that a printer fleet can be minimized, leading to significant savings.
3. Increase Efficiency
How many people does it take to fix a paper jam? If you're waiting for a punchline, there isn't one. It's not funny when you see two or three people huddled around a printer trying to troubleshoot, opening compartments and pulling ripped pieces of paper from feeder trays. Frustration mounts as productivity plummets. Dealing with everyday printer problems may not seem like a big deal, but the cumulative lost productivity and related labor costs can add up significantly.
By working with a Managed Print provider, many printer issues, including hardware and software upgrades, are handled proactively to prevent problems. And because of remote monitoring and meter readings, toner supplies are replenished as needed to keep things running smoothly.
It All Adds Up
What most businesses want to know is whether a Managed Print solution can help the bottom line. Over time, it can reap big rewards for most organizations due to many of the improvements already mentioned: reduced waste, fewer printers, the elimination of unexpected repair costs, minimized security risks, decreased downtime and fewer frustrations.
In addition, the ability to have a fixed monthly payment is a major benefit when forecasting budgets for the coming year. Once companies experience the results of a Managed Print Service program, few turn back — a testament to its value.
Reach out to the print experts at American Office Solutions for your no-cost, no-obligation needs analysis to determine if Managed Print Services is right for your organization.