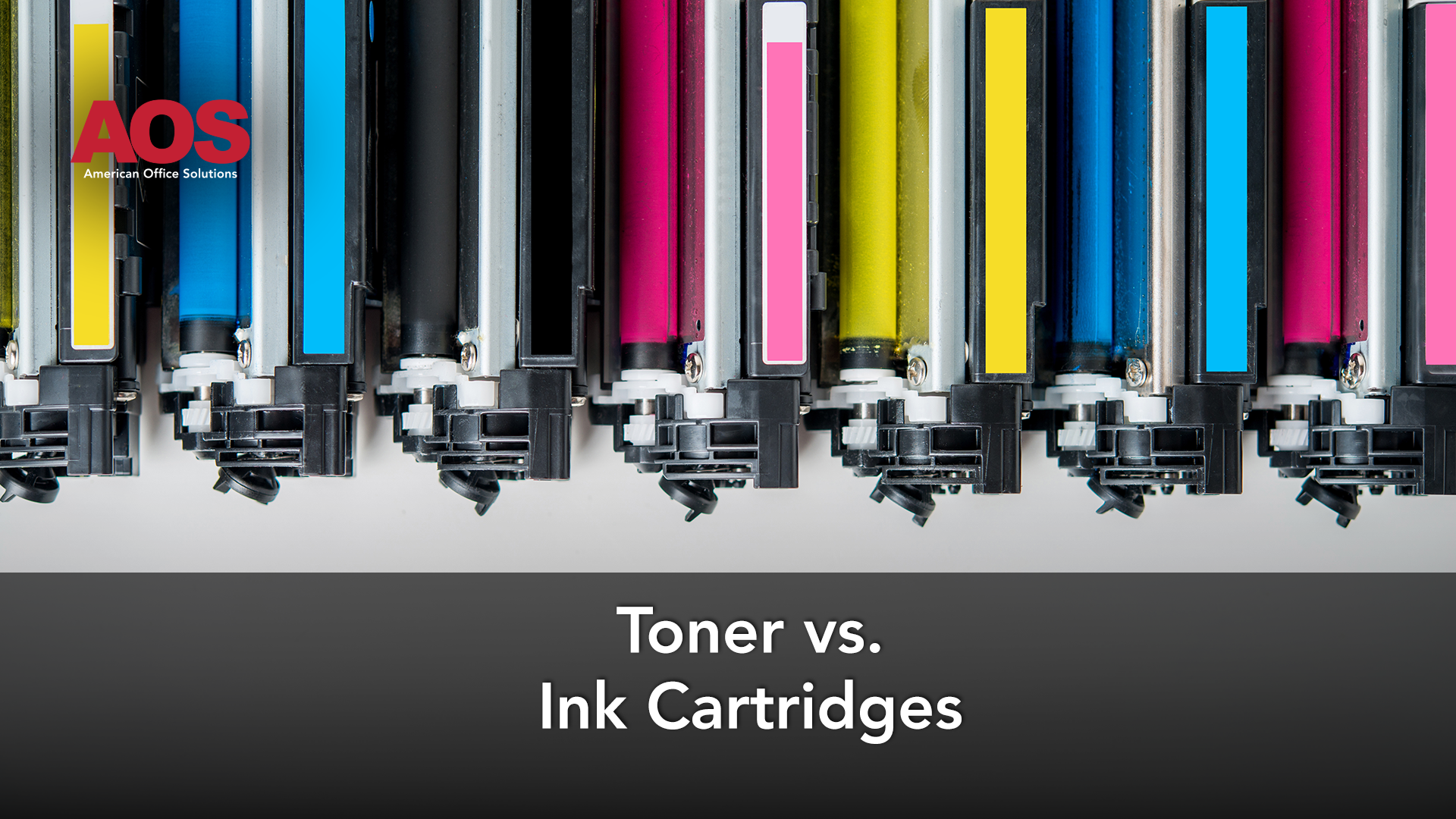 Do you find yourself using the terms "toner" and "ink cartridges" interchangeably—especially in terms of your office copiers? If so, you're not alone. Lots of people don't know the difference between toner vs. ink cartridges.
Once you see how they differ, it will be easier to choose the right one for your printing needs. Let's dive in!
Toner Vs. Ink Cartridges: Here's What You Need to Know
If you have an inkjet printer, you use ink cartridges. These single-unit cartridges contain liquid ink that transfers to the paper when printing. You can use black or color cartridges, depending on your needs. If your printer uses several cartridges and one runs out of color, you'll have to replace it before using the printer.
If you use a laser printer, you use toner. The toner transfers to the page and is melted with laser technology. You can purchase single-use or refillable toner cartridges to use with your laser printer. Also, you can choose a monochrome or color laser printer and toner.
While the contents of the cartridges are the most noticeable differences between the two, there are others as well.
Let's take a closer look at how the two differ regarding cost, page yield, printing speed, and other factors. After comparing toner vs. ink cartridges in these categories, you'll be ready to choose one for your home or business.
The Associated Printing Costs of Ink and Toner
The upfront costs are more expensive when buying a laser printer. However, you can save on the back end because of the lower printing costs. On average, you'll spend 4-5 cents a page to print in black and white with an inkjet printer. However, you can expect to pay around a penny per page if you print with toner on a commercial grade device.
What's The Replacement Cost?
While toner has a lower cost-per-page, you will pay more for the cartridge. However, your local copier dealer can bundle the cost of toner into your service agreement.
Related Article: Toner Pirates: What Are They and How To Avoid The Scams.
Then, the dealer will also replace the toner for you. You'll find that it's much easier to stick to a budget when you partner with a copier dealer.

How About Page Yield?
When examining toner vs. ink cartridges, it's also essential to consider the page yield for both. "Page yield" refers to the number of pages each cartridge can print before needing to be replaced.
On average, you can expect to get 150-500 pages out of a single ink cartridge. However, you can get a toner cartridge with a page yield of 2,000 or more pages per cartridge. If you don't like changing the cartridge often, toner is likely the right choice for your small business.
Ever Heard of Printer Clogs?
You likely use your office printer most days. However, what happens if you go on vacation and do not use your printer for a while? If you have an inkjet printer, the ink might dry out and cause the printer to clog. You'll have to replace the cartridge and might need to repair the printer.
Because toner is made of powder, it doesn't dry out. Thus, your toner can go unused for weeks or months without any issues.
Printing Speed and Paper Size
If your small business prints a high volume of documents, printing speed is essential. You need the printer to finish each job quickly so you can move on to the next. While inkjet printers can handle around 16 black and white pages a minute, laser printers can often print 100 pages or more a minute. Some can even print 200 pages in a single minute, making it easier to complete jobs.
Inkjet printers are typically more compact than their laser counterparts, making them ideal for sitting on top of a desk. However, manufacturers have now made some small laser printers as well. In fact, you can even get a laser printer that fits on your desktop. However, small laser printers don't have all the features you can get with larger multifunction printers.
Related Article: When Is the Best Time to Replace or Upgrade Your Office Copy Machine?
Smudges and Smears
If you're using your printer for business, you don't want to deal with smudges. Documents with smudges look unprofessional, and that can hurt your business.
Inkjet cartridges that contain dye-based ink are prone to smudging. However, pigment-based ink isn't as likely to smudge. You can also avoid smudges by using toner. As long as your printer and toner are set up correctly, you shouldn't have smudges on your documents. Your local copier dealer can set everything up for you, so you won't have to worry about anything.
What Are The Possible Uses?
You also need to consider how you'll use the toner or inkjet cartridge. If you print a lot of images and photos, consider getting an inkjet printer. Color images tend to look better and more realistic when printed with ink.
Additionally, you'll want to use an ink cartridge if you're going to print on various types of media. While toner does a fantastic job on plain paper, it isn't meant for fabric and other options.
On the other hand, if you tend to print text documents, you'll likely want to go with toner. Toner allows for enhanced precision when printing, so you can create high-quality text documents.
The Final Say: Is Toner The Right Fit For Your Small Business?
If you run a small business with a medium to high print volume, a laser printer with toner is likely the right choice. With toner, you can print pages quickly at a reduced rate. Also, you won't have to change your toner very often to stay productive at the office.
AOS helps businesses find the right printing solutions for their needs. We can help you find an office printer from a top brand, such as Kyocera, Lexmark, and Sharp. First, reach out to us to discuss your printing needs. Then, we can create a proposal customized to your business.