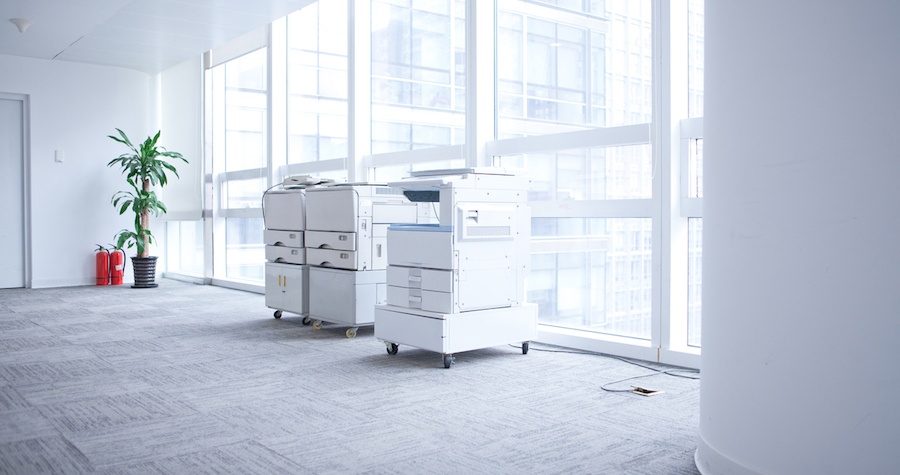 As businesses require faster production, increased efficiencies and higher output, they've needed to require the same kinds of performance from their copiers and printers. Print devices are vital in today's business environments and they equip workers with many more capabilities than simply printing and copying documents. They scan, email, fold, collate, staple, store data and much more.
Technology providers are designing even higher functioning devices to meet the growing demands of organizations in this hyperconnected age. Managed Print Services are helping enterprises of all sizes leverage these new technologies to improve business outcomes and reduce operating costs by consolidating fleets, increasing uptime, enhancing security measures, reducing waste and improving overall efficiencies.
Managed Print providers are also on the frontlines helping manufacturers identify pain points and offering insights into future development opportunities. Here are some of the major print advancements to watch for in coming months and years.
Integrated Technology
As more data moves to the cloud and an increasing number of Internet of Things (IoT) devices emerge and evolve to aid businesses, printer and copiers will also evolve and integrate with them. Developers will improve predictive analytics sensors to detect patterns of wear and tear to prevent possible problems before they occur. Data will be shared with remote service centers regarding usage issues that will be alerted to any problems so that proactive actions and highly targeted recommendations can be made.
As new technologies enter the market for multiple industries, developers of multifunction print devices will improve connectivity to increase collaboration across departments and multiple geographic regions. Devices will be introduced that feature new capabilities and cutting-edge functionalities, and mobile accessibility to printers will also increase.
Enhanced Security Measures
Heightened awareness of security issues among network printers is prompting technology providers to implement even greater security measures for the future. Not only will increased measures be taken to protect data sent through print networks from cyber criminals; more robust protections will be developed to guard documents from internal threats or mishandling of classified information. Industries — especially healthcare, manufacturing and education — will increase their investments in permission-based printing, ID scanning and other measures to ensure document and data security both internally and externally.
Voice Assist
Voice assist technology has stormed the technology market with devices such as Microsoft's Cortana, Google Assistant, Amazon Echo and Apple's Siri. These technologies are improving with each generation to enhance user experiences and become more intuitive and responsive. Expect to see multifunction printers become increasingly integrated with these and other voice assist devices, allowing greater accessibility, ease-of-use and versatility in work environments. Sharp is pioneering this arena with its announcement that it's working with Amazon Web Services (AWS) to enhance technology in the workplace through Alexa for Business.
InkJet Printing
Among desktop printers, laser printers have long dominated the field in office environments. Gartner suggests that trend may shift and forecasts that inkjet printer use will grow by nearly double to account for 15% of office print volumes by 2020, up from 8% currently. The uptick in inkjet use will be attributed to advances in higher quality and faster speeds in combination with typically lower operating costs. Kyocera just announced that the company is entering the high-speed inkjet production-printer market with its new TASKalfa Pro 15000c cut-sheet full-color printer. The machine is ideally suited for print service providers (PSPs) and customers with in-house medium to large volume print jobs.
While standard inkjet printers of old have been used for individuals where output is minimal, newer models entering the market offer more flexibility, output and functionality. For typical office settings, however, multifunction devices will continue to prevail where multiple users require access and higher output is desired.
Ensuring that your business maintains its competitive advantage requires empowering employees and giving them the tools and technology they need, including printers and multifunction devices. A Managed Print provider can help you stay informed about emerging technologies and work with you to pinpoint opportunities for improved performance and cost savings. If you're in need of such a print solution, reach out to the experts at American Office Solutions for a no-cost needs analysis.