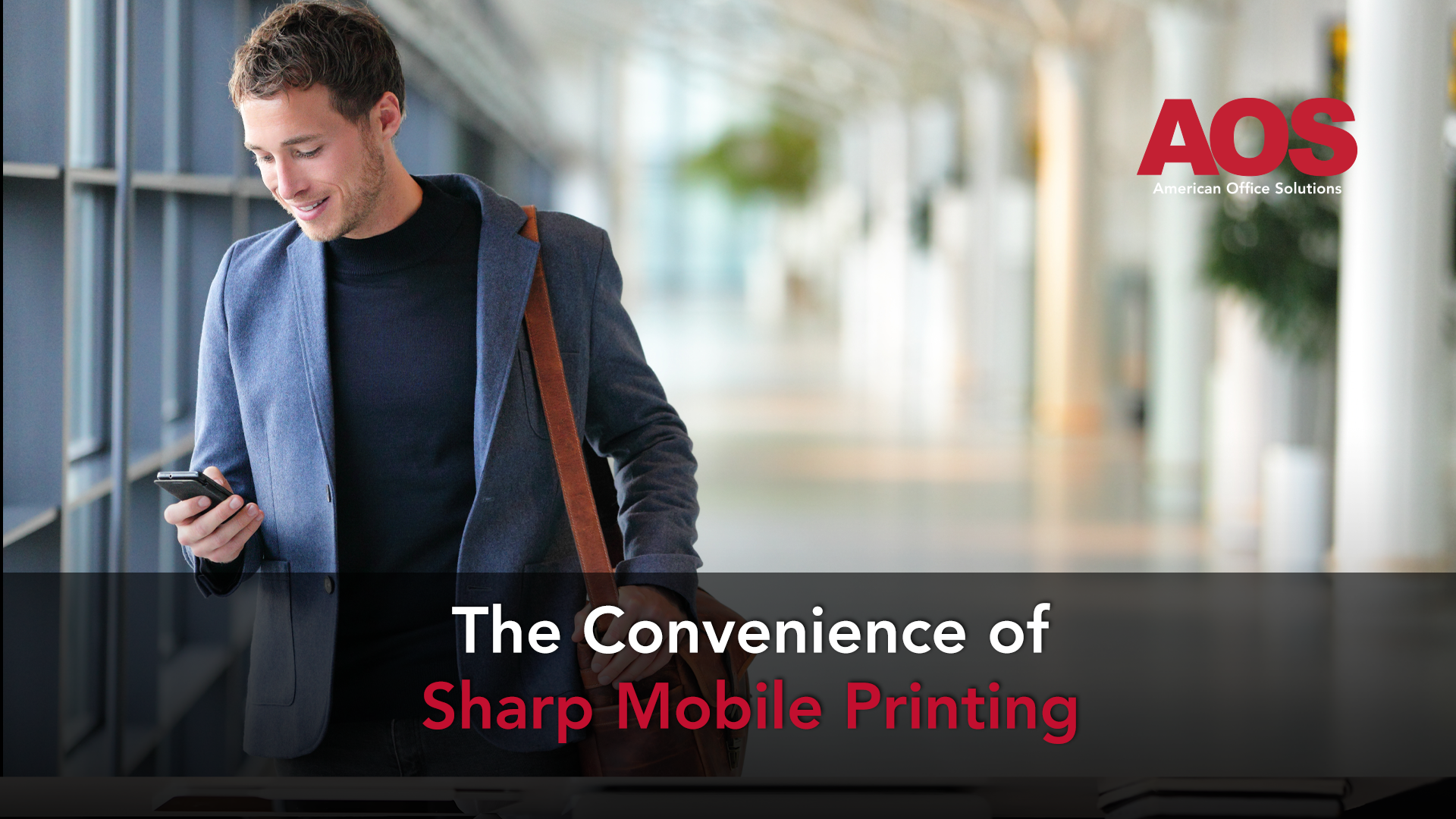 The convenience of printing remotely from any mobile device to your multifunction printer (MFP) is a helpful addition to the hustle and bustle of the modern office. Printing from anywhere using the smartphones we carry in our pockets every day can save time in a pinch. Whether it is Apple's AirPrint or a printer manufacturer's brand-specific mobile printing application, printing from a mobile device has settled into office workflow thanks to the accessibility and ease of use that mobile printing provides.
Mobile Printing to Sharp Printers
Sharp is one of the more recent printer brands to apply mobile printing accessibility to their printers and copiers. Their Sharpdesk Mobile Application provides remote printing capability to many of their printers or copiers that may not support the natively installed AirPrint available on Apple smartphones.
What Is Apple AirPrint?
Apple AirPrint is the natively installed mobile print functions on iOS smartphones or tablets. The native remote printing functions are straightforward and easy to use. AirPrint provides basic printing from and scanning to your smartphone without hassle so long as you are connected to the same wireless network. For Android smartphones, utilizing brand-specific mobile printing applications is recommended.
How to Use Apple AirPrint
AirPrint is the iOS mobile printing solution natively available on Apple smartphones and tablets.
In order to utilize the remote printing function, the mobile device will first need to be connected to the same network as the printer or copier you would like to print to or scan from.
In order to use Apple AirPrint, follow the directions below:
Open the document you wish to print.
Touch the share icon of the document viewing app you use. It may also fall under the 'options' dropdown noted by three ellipses.
Scroll to and tap 'Print' or the printer icon. If the print option is not available, you can consider using the Sharpdesk Mobile app mentioned below.
Select the Printer you would like to print to.
Choose the number of copies or other options. Brand specific mobile printing apps may provide extra printing features if needed.
Tap 'Print'.

How To Print Remotely From an Android Smartphone or Tablet
For users of Android mobile devices, there is no longer a natively installed mobile printing option available since Google Cloud Print has been discontinued. Because of that, remotely printing to a Sharp Printer with your Android smartphone can be accomplished using the Sharpdesk Mobile application.
What Is the Sharpdesk Mobile Application Capable of?
Adding upon the mobile printing and scanning that AirPrint already allows for, Sharpdesk Mobile brings a few extra functions to the table. Of course, printing and scanning are possible. Additionally, Sharpdesk Mobile protects your documents with maximum security just in case you are printing on an open network. The application also allows you to keep track of who is printing to which copier or printer as well as block users from remotely printing to a specific printer if they do not have permission to do so.
Where to Download the Sharpdesk Mobile Application
The Sharpdesk Mobile printing application is available on the Apple App Store and Google Play Store. Both are free downloads available to all Sharp users who might need the extra mobile printing options the app can provide.
How to Print to Your Sharp Copier From Your Smartphone With Sharpdesk Mobile
Before anything else, you will need to install the app from either the Google Play or Apple App stores depending on your mobile device.
Open the print option under the settings menu on your mobile device
Select the app
Set the switch to ON.
Open a document you would like to print
Select the "print" option from the menu
Select the Sharp printer you would like to remotely print to
Configure your print settings as needed

Tap the print button
The Final Say: Printing Remotely To Your Sharp Multifunction Printer Is a Great Help To Workflow
As remote printing from mobile devices steadily increases in use and popularity, now is as good a time as any to take advantage of the option if you haven't already done so. If in need of a modern Sharp printer or copier that has remote printing capability, American Office Solutions is willing and able to provide options to suit your needs. Give us a call today at (800) 346-6920.