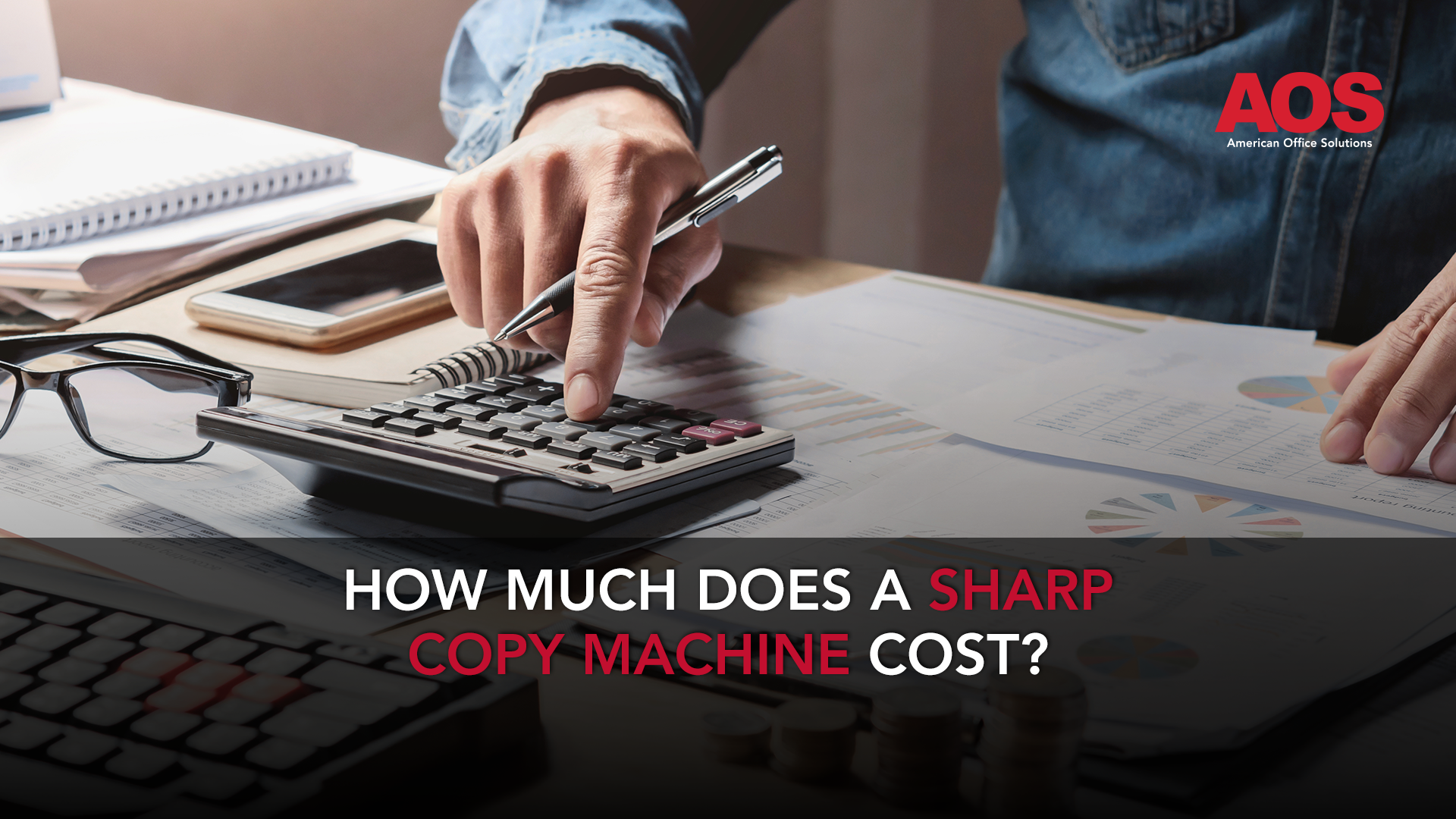 READ TIME: 5 MINS
After doing your research online, you've decided you want to move forward with purchasing or leasing a Sharp copy machine. A well-known and accredited brand like Sharp instantly lets you know that their products would be a perfect fit for your organization.
But, before you sign off on the purchase or lease agreement, you need to know how much you'll spend—because the price is always one of the leading factors in any business purchasing decision, right?
Wouldn't it be better to know this information up front? Today when researching copier pricing online, you have to be careful.
Although you may stumble upon some great pricing on sites like Amazon, eBay, or even copier dealers, make sure you know what you're looking at. There are many "used" or "refurbished" devices posted online and you should know exactly what you are looking at when comparing pricing.
Asking "How much does a Sharp copy machine cost?" is kind of like asking how much a Honda costs. Many factors go into this answer and depend on the model you purchased and any additional features needed.
Still, with such a variety of models ranging in price, it's almost impossible to get a ballpark idea of exactly how much you'll pay each month. So, let's dive in!
How Much Does A Sharp Copy Machine Cost? Here's The Breakdown
As you look at the options we list below, keep in mind that Sharp multifunction printers (MFPs) are divided into three series of models, and the series you choose affects the cost.
You can select from the:
Essential Series: Includes basic features and value-based document systems, making it a great choice if you intend to expand your business.
Advanced Series: Solution-integrated document systems that make it ideal for handling demanding workflows.
Pro Series: This is the high-performance option if you work in a bustling business environment.
As we review the many different Sharp copy machines and accompanying features, we want you to keep in mind that the prices vary.
We're also choosing to give you a leasing price for these machines as we have found that most of our clients lease these machines instead of purchasing them outright.
The leasing prices of the device categories listed below range from about $90 per month to about $600 per month.
By the way, did you know that you could lease your office copier? Finding a qualified office equipment provider like AOS gives you a better idea of specific leasing costs and the breakdown for each machine you'd like for your organization.
Sharp Black and White Digital MFP
If you need an MFP for a medium or large-sized workgroup but don't necessarily need color printing or copying as a feature, something from the Sharp Black and White Digital MFP series is ideal.
These machines range in price, and as we mentioned earlier, the amount you spend depends on the features you choose.
You can get one of these Sharp copy machines with a built-in retractable keyboard, making it easy to enter data.
A high-resolution touchscreen is also an option with these office copiers. With so many choices, you should let a professional team, like AOS, create a personalized manage print solution for you, so you don't miss out on the top features.
An example black and white digital MFP is the MX-M3071 and ranges in lease price from $90-$500.
Sharp Color Multifunction Printer (MFP)
Depending on your needs, a black and white MFP might not be an option. Fortunately, you can get one of the Sharp Color MFP models. These office copy machines range and can easily handle the printing needs for medium to large workgroups.
You can get some helpful features with a Sharp color MFP, including a staple function that makes it so much easier to organize your documents.
If you get frustrated sorting, organizing, and stapling, this add-on can alleviate a lot of stress.
An example of a color MFP is the MX-3071 and the average lease price for this printer ranges between $100-$600.
Top Features and Add-ons Of A Sharp Copy Machine
Sharp is committed to providing the best technology for office copy machines. Because of that, it has many standard features that will help you get more out of your copier.
You can also add some features to have access to different technology. Check out some of the best features and add-ons below to better understand what you can expect when you get a Sharp MFP.
Sharp Open Systems Architecture (OSA): Sharp Open Systems Architecture is the company's app store. Countless developers provide applications on the open, web-based platform.
While most businesses choose existing applications, you also have the option to create your own integrations. These apps optimize investments, enhance productivity, reduce costs, provide security, and simplify IT management. To put it simply, OSA makes your job much easier.
Security Features: Sharp takes security seriously, so all multifunction printers include secure operating systems. These systems will protect your machine against viruses, cyber-attacks, and other security issues. This tool is especially essential if remote users access your MFP.
You can also add additional security features if you wish. It's always wise to talk to a specialist when choosing the security features you need. After assessing the specific workplace, the specialist can help you select the best features.
Advanced Scanning Features: If you do a lot of scanning, you'll be pleased with the advanced scanning features. You can scan directly to your email, archive or file documents, and enjoy double-sided scanning. These advanced features improve document security while also making your employees more productive.
Touchscreen Interface: Depending on the MFP you choose, you can get a Sharp copy machine with a customizable touchscreen interface. These user-friendly touchscreens allow you to customize the features, themes, and modes. You can even use the interface to reengage files or edit documents. With the help of this feature, you won't have to run back and forth from your desk to the printer.
MFP Voice: You're likely used to asking Siri, Google, and Alexa, to complete tasks for you, such as checking the weather, reading the news, or putting an item on your calendar. You can use your voice to operate a Sharp copy machine when you add MFP voice command with Amazon's Alexa.
Once enabled, you can use your voice to scan documents and make copies. This is a useful feature in a busy office since you don't have to leave your desk to access the printer.
The Final Say On Sharp Copy Machine Cost
Sharp copy machines might be advanced, but you can still easily fit it into your budget. The key is to get the features you need without paying for add-ons that aren't necessary for your business.

Unless you are a printing professional, you probably don't know which features are the right choice, but fortunately, AOS is here to help. We develop managed print solutions for our clients. With our help, you will get the features and add-ons you need to save time and money while meeting your business' demands. We customize each solution, so you will only pay for what you need and nothing more. Contact us today so we can go over your options and help you lease an office copier.