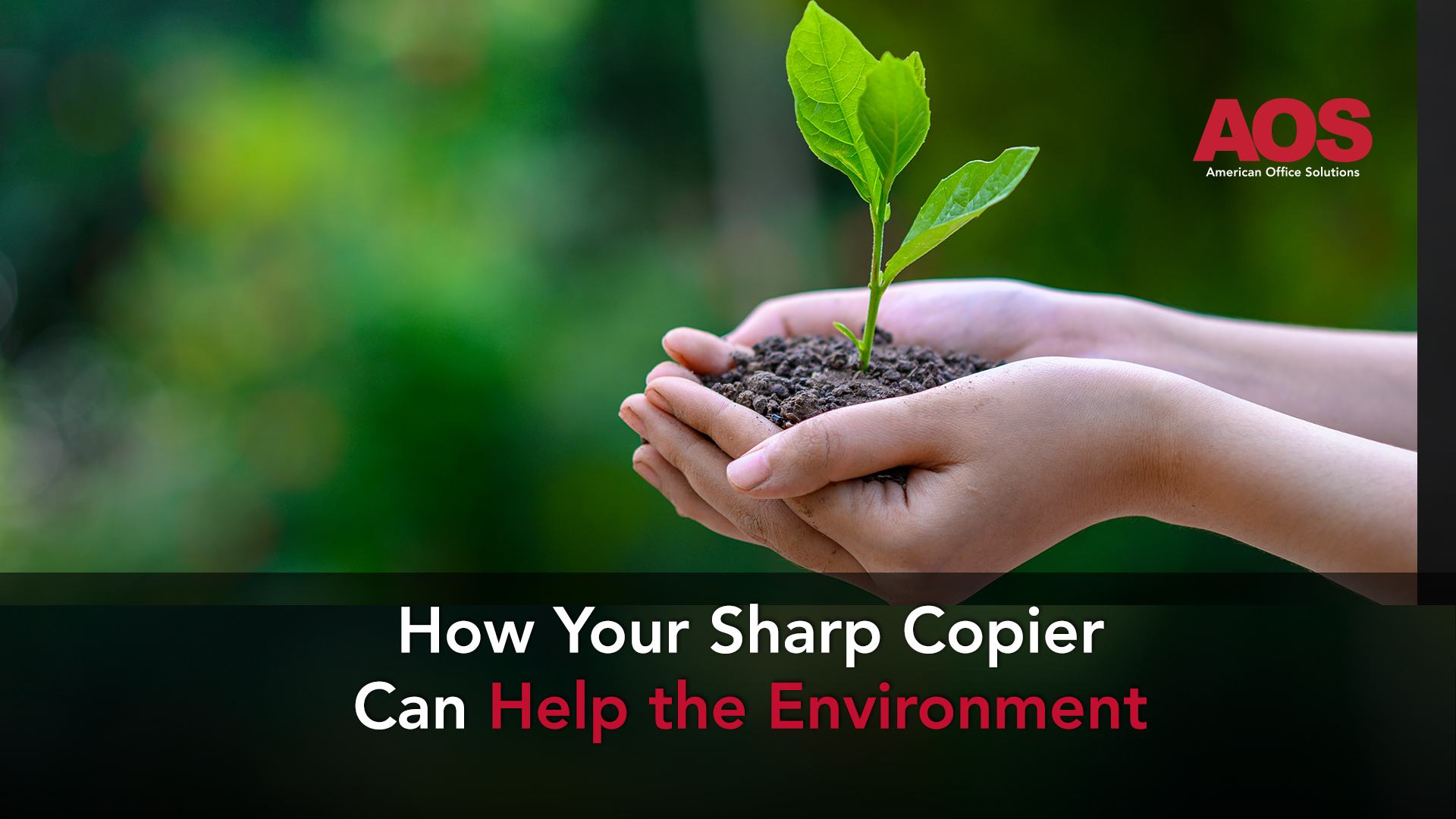 Working to ensure the longevity of the planet we live on is a worthy goal to pursue. People all over the world take efforts every day to minimize their impact on the environment. Similarly, many businesses seek to lead the way in promoting environmentally friendly programs. As one of the leading and most respected copier companies, Sharp Electronics actively seeks out eco-friendly methods of production and recycling that can reduce the impact their copier products have on the environment.
The Environmentally Friendly Program for Sharp Copiers
One of the first things you see on the recycling section of Sharp's website states: "Our Earth is not disposable. Toner cartridges shouldn't be, either." Because of this statement, Sharp sought a way to reduce the carbon footprint of their copier products.
As part of their commitment to maintaining the environment, Sharp offers a toner recycling program to customers called the Stop, Drop, Recycle Recycling Program. This toner recycling program reduces waste by using recyclable materials in the production of all Sharp consumables including toner cartridges, waste toner bottles, toner collection containers, and drum units. Thanks to these recyclable materials, Sharp Electronics can reduce the waste generated by their copier products, allowing the user to happily make copies and print documents with a clear conscience toward the environment.
How Sharp's Toner Recycling Program Works
For most businesses or operations that use more copier consumables than an individual might, the Stop, Drop, Recycle Recycling Program allows the customer to use bulk recycling boxes for old consumable items such as toner cartridges, waste toner bottles, or drum units. Sharp or a local copier dealer partnered with Sharp can send a recycling box upon request. Each box can hold up to ten old toner containers. Requesting recycling boxes is the easiest and most convenient method of Sharp recycling.
In cases where an individual or small-scale business uses a Sharp copier, there are two possible options you can use despite their more tedious nature:
Old consumables can be dropped off at any Staples location.
Print a UPS label on demand and ship the empty toner container or waste toner bottle directly to Sharp's recycling facility. To get a UPS label from Sharp, you can do so from their website.


How To Take Advantage of the Sharp Recycling Program
Anyone who uses a Sharp copier can take advantage of their eco-friendly toner recycling program.
To take advantage of Sharp toner recycling, there are two methods you can use:
If you have a service and supply agreement with a local copier dealer, you can contact them to request toner recycling boxes. Sometimes, copier dealers will have recycling boxes on hand that can be sent over faster than they could be sent directly from Sharp.
If you do not have a service and supply agreement with a local copier provider, you can go to Sharp's website to request the toner recycling boxes.


Benefits of Utilizing Sharp's Toner Recycling Program
Reduced Carbon Footprint - Using Sharp's Stop, Drop, Recycle Recycling Program lowers the amount of copier waste affecting the environment. They further reduce their carbon footprint by allowing bulk shipping of old consumables.
Ease of Use - The Sharp recycling program is simple and easy to use.
No Additional Costs - Sharp covers the costs associated with shipping and recycling old toner consumables and drum units.
Zero Waste - All Sharp toner consumables are 100% recyclable and leave zero waste behind that could be sent to a landfill.
The Final Say: Start Recycling Old Sharp Products With Us Today
If you use a Sharp copier, you can easily operate in a more eco-friendly manner by utilizing Sharp's Stop, Drop, Recycle toner recycling program. Efforts towards reducing the carbon footprint by utilizing the program is a simple way to help the environment.
As a Sharp dealer in Michigan, American Office Solutions adheres to the principles of respecting the environment. We take steps to ensure all products we offer utilize environmentally friendly recycling programs and systems. Contact us at 800-346-6920 for any inquiries concerning eco-friendly copier needs.