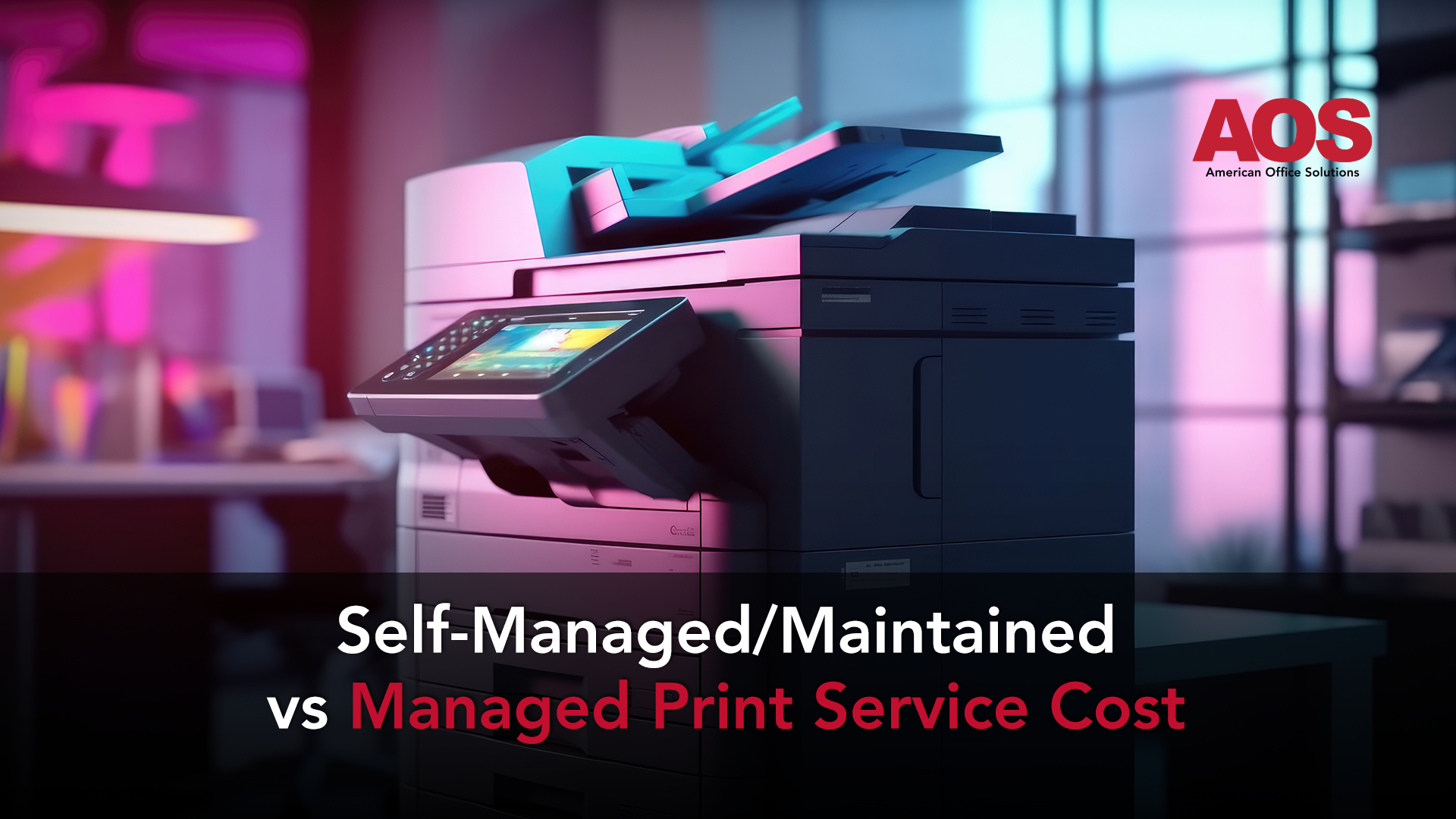 If you work in a busy office or run a company, you know how much a copier/printer is relied upon. From printing out contracts and invoices to providing crucial reports for management, printers are essential tools in the world of work. But in an age where most businesses are cutting costs, how can you save money on printing costs?
One option is to use managed print services. Essentially, it's a service that allows a company hired to manage and maintain the copy print devices to take the hassle and excess cost away from the staff and into the hands of experts. But is it worth the investment, and how much does a managed print service cost anyway?
Follow along as we compare the cost and benefits of self-managed versus managed print services. We'll dive into the added value of managed print services, such as increased security, improved efficiency, and reduced waste.
What Are Managed Print Services (MPS)?
Managed print services are a solution businesses can avail to have their printing requirements managed and maintained by a third-party provider. It involves outsourcing the management, supplies, maintenance, and support of a company's printing needs to a service provider.
Services often include the following (and even more in some cases):
Supply monitoring
Automatic supply ordering
Service call history
Supply order reports
Utilization reports
Tracking print volume
Document management
Workflow improvement
Ultimately, MPS providers take care of everything related to printing.
Benefits of Managed Print Services
Managed print services have revolutionized how businesses operate regarding printing documents. Instead of self-managing, businesses can focus on their core operations without worrying about their printing needs.
Not sold on the idea of outsourcing printing services? Here are some of the benefits of MPS that businesses can enjoy compared to self-managed business printing.
Cost Savings
One of the primary benefits is how much businesses can save on printing costs. When businesses self-manage their printing needs, they must buy and maintain all the equipment, including printers, copiers, toner, and paper. They buy these supplies at regular retail prices because they can't take advantage of the significant discounts that MPS providers offer. This makes it challenging to accurately calculate the actual printing expenses and the efficiency of their workflow. It becomes unclear how much they are truly spending on maintaining their own equipment and supplies
With managed services, however, businesses don't have to worry about any of these expenses. Instead, MPS providers take care of everything, including supplying:
Toner
Equipment
Maintenance
Repair
MPS also ensures that businesses only print what they need. This reduces unnecessary printing and saves on paper, ink, and toner costs.
Reduced IT Workload
When businesses self-manage their printing needs, they often require a dedicated IT person or team member to handle printer maintenance and repairs. This person's work will be a distraction from their necessary work, such as:
Troubleshooting IT issues

Maintaining the website

Developing new systems
With MPS, businesses don't need a dedicated staff member to handle printer maintenance, repairs and purchase supplies. This reduces their workload and enables them to focus on other essential operations.
Improved Productivity
When businesses have to worry about maintaining and repairing their printers and copiers, it can take time away from important tasks. MPS takes care of the printing needs, eliminating the need for businesses to get sidetracked with printing issues.
MPS providers have equipment that is designed to work efficiently and effectively. This can increase print speed and ensure printing is never a workflow bottleneck. With MPS, businesses can rely on fast, high-quality printing and copying, keeping their productivity levels high.
Predictable Costs
Budgeting and predicting costs can be challenging when businesses self-manage their printing needs. With MPS, businesses have a predictable monthly cost, including everything from leasing equipment to supplies. This makes budgeting easy and ensures no unexpected expenses, such as repairing/replacing the printer or buying toner in an emergency.
The best part? MPS providers offer options that range from basic printing to advanced features such as print auditing. This helps control and track usage, making it easy for businesses to choose the services that meet their unique needs and budget.
Easy to Change and Upgrade
MPS providers offer flexibility that self-managing businesses don't have. For instance, businesses that self-manage their printing needs have to purchase new equipment to add features such as:
Stapling
Color printing
Hole punching
With MPS, these features can be added easily without buying new equipment. Additionally, because MPS providers are experts in the industry, they can recommend software upgrades, like PaperCut, that can help control printing costs and usage.

24/7 Support
MPS providers offer 24/7 support to their clients. This means businesses can get help anytime they need it without worrying about the time or day.
The support team is always available to provide guidance and help resolve any issues quickly to ensure printing operations are back up and running as soon as possible. This support ensures businesses can focus on their core operations without worrying about printing issues.
Environmental Benefits
Printing toners and inks contain chemicals that can be harmful to the environment. MPS providers often promote and use eco-friendly toners and inks that are better for the environment. The manufacturers they partner with also run extensive recycling programs and engage in creative reuse of recycled materials. These efforts are directed toward benefiting the community, such as creating park benches and utilizing recycled materials for asphalt production.
They also offer print auditing, which helps businesses stay on top of printing efforts and reduce paper waste. So, by using MPS, businesses can reduce their environmental footprint while reducing costs.
How Much Does a Managed Print Service Cost?
So, how much does a managed print service cost? Pricing can vary depending on the needs of your company. At American Office Solutions, we work closely with small and large businesses and nonprofits to understand their print environment better and provide the best solutions for their specific needs.
To determine the cost of your managed print service, it's best to request a free needs analysis from us first. This will help us better understand your unique print environment and tailor our solutions to your needs. Our solutions experts will be available to have a conversation with you where you can explain your current print environment and future needs.
Once we assess your print environment better, we can suggest further steps and solutions for the most efficient and cost effective solution. Remember, every business is unique, and the final cost of your service will depend on your specific requirements.
Get Started
Managed printing services offer many benefits for businesses of all sizes. From cost savings to environmental benefits and improving productivity, MPS can help businesses focus on their core operations.
Ready to get started? Get your print needs analysis! This will help us give you an accurate quote for your managed print service cost.