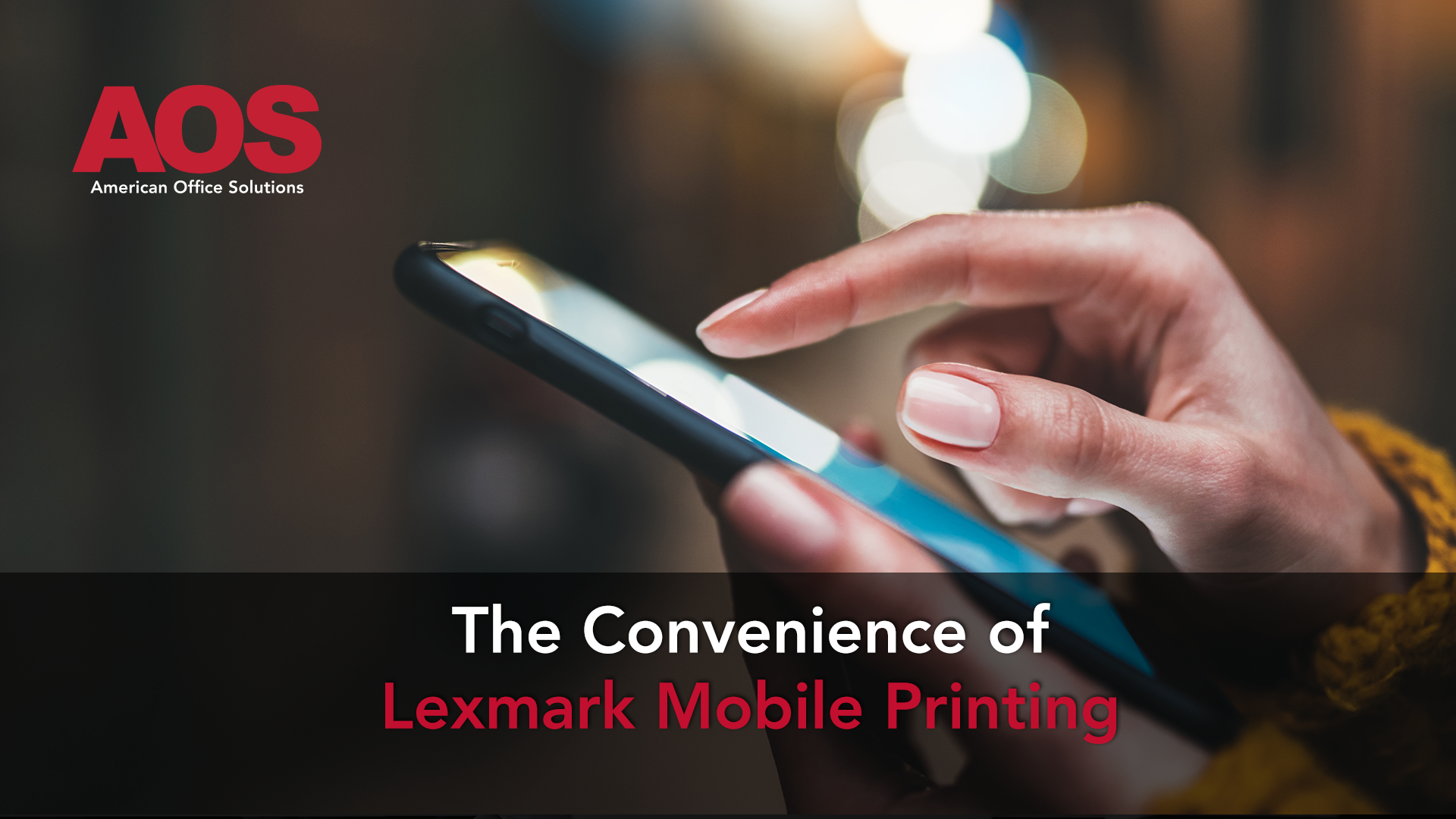 In the fast-paced environments of modern offices, any method that can increase efficiency or provide extra convenience is always appreciated. One convenience that is sometimes overlooked is to print documents remotely from your smartphone or other mobile device.
iOS mobile devices have remote printing functions natively installed upon purchase. All iOS mobile devices come with AirPrint. On top of those natively installed mobile printing functions, most multifunction printer manufacturers provide free applications containing more robust features than their natively available counterparts. These brand-specific apps work well with both Apple and Android mobile devices.


What Is Apple AirPrint?
Apple AirPrint is the natively installed mobile print function on iOS smartphones or tablets. This native remote printing function is straightforward and easy to use. It provides basic printing from and scanning to your smartphone without extra hassle so long as you are connected to the same wireless network.


How to Use Apple AirPrint on Your Lexmark Printer
AirPrint is the iOS mobile printing solution natively available on Apple smartphones and tablets.
In order to use AirPrint, your smartphone or tablet will first need to be connected to the same network as the printer or copier you intend to print to or scan from. If unsure whether or not the device supports mobile printing, check with your copier/printer provider for confirmation on whether or not your Lexmark printer supports remote printing.
In order to use Apple AirPrint, follow the directions below:
Open the document you want to print.
Touch the 'share' icon of the document viewing app you use. This may also fall under the 'options' dropdown.
Scroll to and tap 'Print' or the printer icon. This will change depending on what document viewing application you use. If the print option is not available, you can check the app's User Guide or Help section to see if the app supports AirPrint.
Select the lexmark make and model.
Choose the number of copies or other options.
Tap 'Print'.



What Extra Features Does the Lexmark Mobile Print App Provide?
Because the natively available AirPrint covers the mobile printing needs of most people in most situations, a brand-specific mobile printing application may not be needed. However, Android smartphone users may want to consider utilizing the Lexmark Mobile Print Application. There are also some extra features available on the brand-specific application that could prove useful in certain situations even for Apple users.
First, there is additional security built into Lexmark Mobile Print. Of course, AirPrint has inbuilt security, but the extra layer of protection that Lexmark Mobile Print provides could give you some extra peace of mind.
Second, Lexmark Mobile print allows you to print remotely directly from the application without the need to utilize a third party document viewing application.


Where to Download the Lexmark Mobile Print Application
The Lexmark Mobile Print application is available on the Apple App Store and Google Play Store. Both are free downloads available to all Lexmark users who might need the additional features available on the app.


The Final Say: Printing Remotely To Your Lexmark Multifunction Printer Is Efficient and Convenient
Remote printing from mobile devices grows in usage and popularity by the day, and now is a great time to learn about the feature and start using it if you haven't already done so. If in need of a modern Lexmark printer or copier that has remote printing capability, American Office Solutions would be happy to point you to the perfect multifunction printer to suit your needs. Give us a call today at (800) 346-6920.