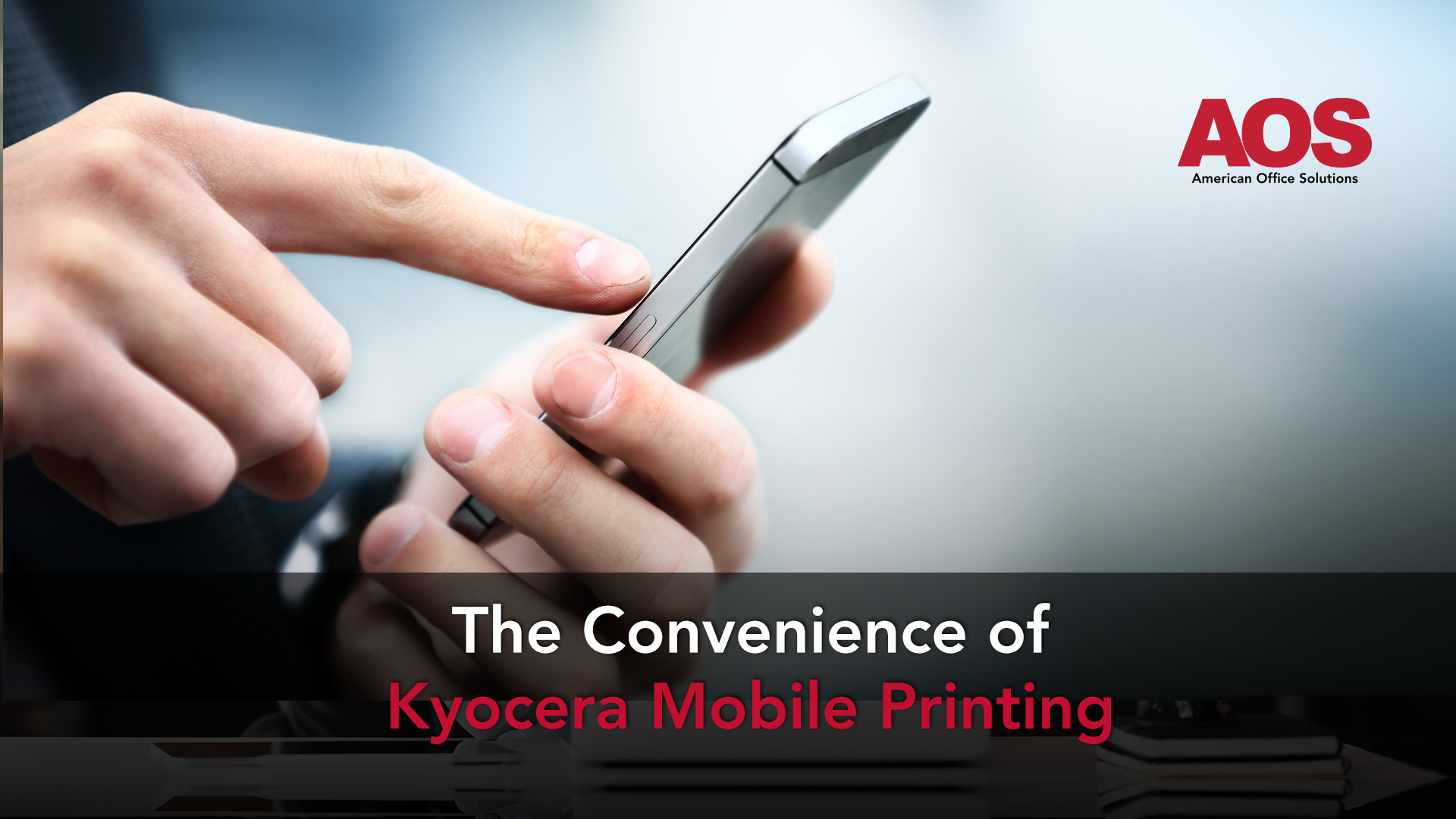 In this day and age where smartphones and technology have almost become an extension of ourselves, the ability to print documents remotely has become a mainstay of the modern office. Mobile printing, otherwise referred to as AirPrint, can be used to remotely print to an office copier or multifunction printer. Most copier brands support Air Printing from both iOS and Android mobile devices which makes it convenient to print natively from your mobile device.
What Is AirPrint?
Mobile printing stands out as a convenient and efficient addition to office workflow. The ability to remotely print documents from a mobile device is a welcome convenience to any modern office. For example, there may be times where a document needs to be printed but a computer is not directly available. Printing images or documents in such situations is no further than a few finger taps away on any iOS and Android device. The easy to use and native for mobile printing on iOS devices is the previously mentioned AirPrint.
Using the AirPrint functionalities of a smartphone, anyone can print photos and documents from anywhere within range of the network. Air Print also facilitates scanning to any mobile device. Scanned documents can scan directly to a Dropbox, Evernote, OneDrive, Google Drive, or a shared folder. It is easy to access and print from any mobile device.

How To Use Mobile AirPrint on iOS or Android Smartphones
Whenever mobile printing is utilized, iOS devices can support the usage of Air Print. Remotely printing to your office copier or printer with the natively available on iOS mobile devices is a simple and convenient affair. The process stands out as a user-friendly benefit to Apple devices.
If there comes a time that you need some extra functions on top of the native functionality of AirPrint, there may be a benefit to downloading and utilizing the Kyocera Mobile Print application.
On the other hand, Android mobile devices used to provide a service similar to AirPrint called Google Cloud Print. Unfortunately, that service has been discontinued. Luckily, mobile printing options are still available. For example, the Kyocera Mobile Print application can fill the gap in your need for mobile printing options on Android devices.
What Is Kyocera Mobile Print?
In cases where extra features such as stapling are needed when printing, the Kyocera Mobile Print application is there to help. Kyocera Mobile Print is an additional mobile smartphone application implemented by Kyocera that contains a few extra features that could help in specific situations. Much like the AirPrint feature available on iOS mobile devices, the application allows for remote printing to Kyocera brand copiers or printers connected to your local area network using a mobile device such as a tablet or smartphone. Both iOS and Android mobile devices can support the Kyocera Mobile Printing application.
The application can also support more robust printing or finishing options such as stapling or hole punch and comes equipped with an accountability option to keep track of what has been printed using the app.
Where to Download the Kyocera Mobile Printing App
Kyocera Mobile Print can be found and downloaded on both the iTunes and Google Play Store. The app is available free of cost in both app stores to meet the remote printing needs of Kyocera customers.
The Final Say: Increase Office Workflow With Mobile Printing Options
Any office thrives on efficient workflow practices. As the saying goes, "work smarter, not harder". In other words, it is always a priority to find ways to tackle more business throughout the day in a more efficient manner. Kyocera Mobile Print is a perfect tool to make a marked improvement in workflow efficiency in any office that uses Kyocera copiers and printers. Even if just for convenience's sake, remote printing applications can save time and energy that could be rerouted to other projects.
As a longstanding local dealer of Kyocera products, American Office Solutions is ready and able to meet your printing needs in Southern Michigan. We would be happy to provide copiers and printers that can be used both traditionally from a desktop and with remote printing applications from mobile devices. Give us a call today at 800-346-6920.