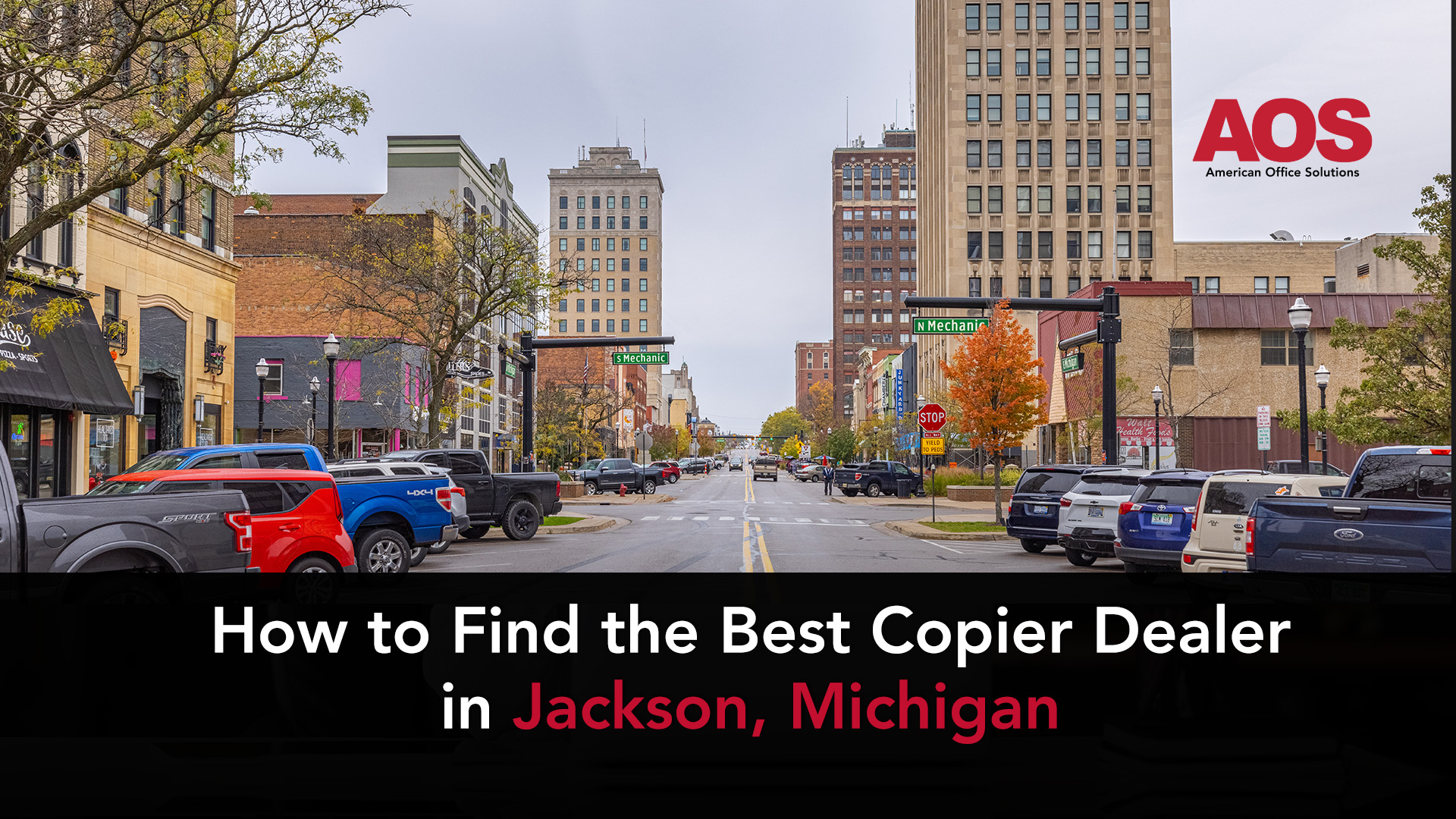 Many, if not most, businesses today require copiers and printers to conduct their daily work tasks efficiently. Organizations will function more efficiently with commercial grade copy and print devices when choosing to partner with a local managed print provider for their office equipment.
Identifying the best copier dealers is essential, and your best option might be rare. Instead of buying a copier from a manufacturer or retailer, you should consider leasing a copier from a local copier dealer.
Suppose you want to find the best copier dealer in Jackson, Michigan or close by. If this is your situation, American Office Solutions might be the right fit for you. This article will dive into finding out why you should hire a local, qualified copier dealer and how you'll benefit from their service and support.


Competitive Pricing
With a local copier provider you have the best chance of receiving a quote for competitive pricing. A local copier provider may have strong relationships with the manufacturers and will be able to provide aggressive pricing for the equipment to pass along to the consumer.
In addition to passing onto you this aggressive price, the local copier provider is an educated consultant to analyze your current print and copy environment needs that can assess the best options and features for your workflow. This will ensure you're not spending extra on unneeded options. They'll do a full review of your print, scan fax environment and provide a service contract that is completely unique to you. If something like printer fax is not needed they'll be able to tailor the quote completely to your needs.
Local copier dealers will offer better care and build a relationship with you. Familiarizing yourself with your local copier dealer will guarantee that you find the solutions you need and that any copier or printer issues are quickly resolved after a quick service call.


Ongoing and Fast Local Support
One of the most important benefits of purchasing a copier or printer from a local authorized dealer is high quality, local support with a fast response time. If your copier needs support, local services can address the issue fast to ensure that your office doesn't get far behind on its work.
When you purchase a copier from a manufacturer or retailer, support requests may take longer and result in a less personalized experience than local repairs due to office locations, queue times based on clients needs, and a number of other contributing factors.


Find the Best Copier With American Office Solutions (AOS)
Purchasing your organizations copy and print device from a local authorized copier dealer is a wise decision to help your business thrive. Companies seeking a copier dealer in Jackson, Mi should turn to solutions from American Office Solutions (AOS).
AOS is an award-winning, local copier and printer service for businesses in the Michigan Area. American Office Solutions is recognized and awarded for its quality service, expert customer support and care, and 99% customer retention rate. With copier options like Kyocera, Lexmark, and Sharp, American Office Solutions is sure to have the best fit for your business and plentiful options.
Contact the team at American Office Solutions today to get started on finding the best multi-function device and solution for you.