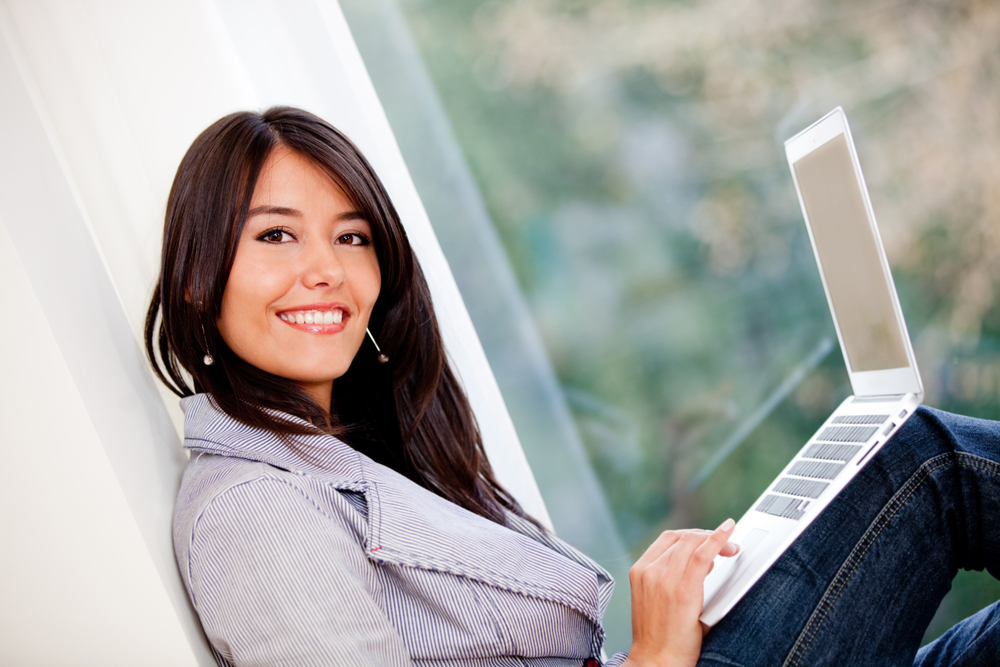 As organizations continue to strive to lower the amount of paper used within the office, we've begun scanning more and more into shared drives, cloud storage and emails. Advancements in scanning technology have provided businesses with great document security, environmental sustainability and lower office budgets.
This means that easy-to-use document processes are crucial for any workplace. The right setup for your copier, multifunction printer or scanner is essential to creating a successful workflow for employees to scan their documents.
There are two main types of document feeders (otherwise known as the scanning part of the copier): Reversing Automatic Document Feeders (RADF) and Dual Scan Document Feeders (DSDF). We're going to talk about the differences between these two types of scanners and determine, once and for all, which is best for your office.
Automatic Document Feeders
Most photocopiers, scanners and fax machines have an attachment called an Automatic Document Feeder (ADF). This technology allows the device to take multiple pages of a given document and feed them in one by one to be scanned by the machine.
Before ADF was popular, people had two options; they would need to manually insert each sheet of a document into the copy machine scanner one by one or they would have to lay each page individually on the platen glass to be scanned. Advancements in technology eventually lead to the development of the automatic document feeder. This automation allows people to scan documents with multiple pages without needing to place each page by hand. This was a huge advancement in the industry and saved valuable time and energy for office staff everywhere.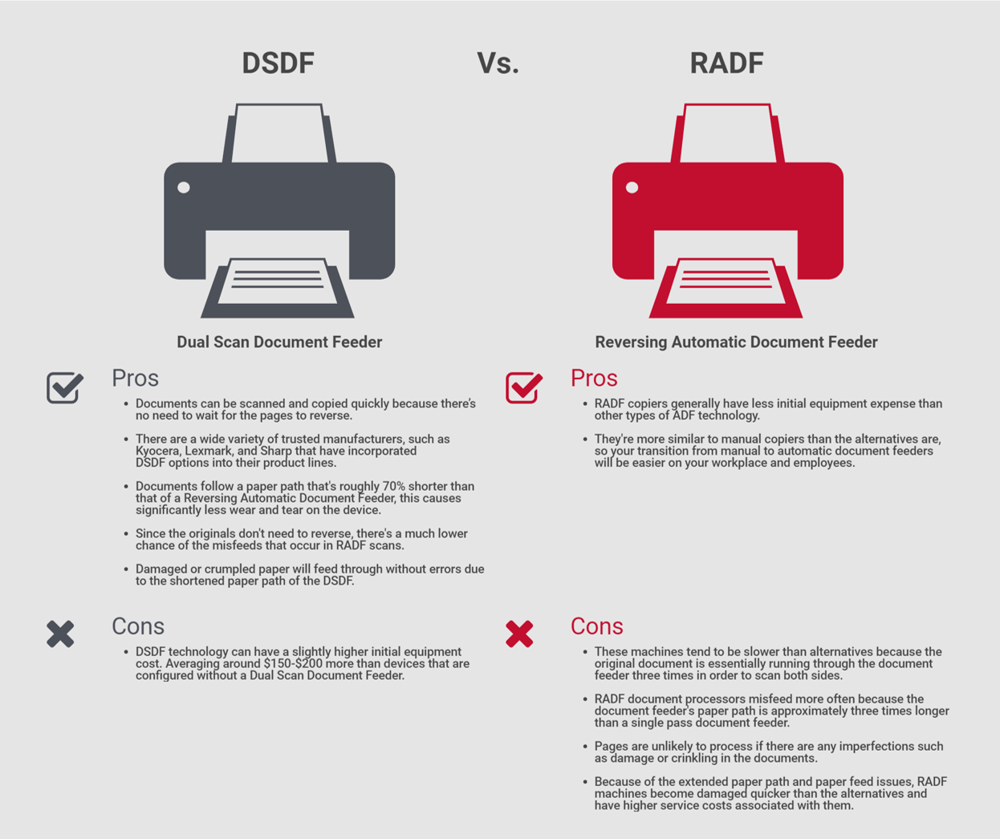 What does RADF stand for?
RADF stands for Reversing Automatic Document Feeder. This type of processor has one scanner incorporated into the device. This scanner is embedded into the copier on one side of the glass, two-sided original documents will go through an automatic reversal. The automatic reversal scans one side of the page before flipping it around automatically and scanning the other side. Users will notice that each page goes through a kind of shuffle as it is pulled back and forth before completely feeding through, this process allows each side of the document to have an opportunity to face the scanner. While you don't need to turn it manually, this can still take a bit of time because the page needs to flip around.
The Reversing Automatic Document Feeder brings up the importance of the distance that the paper has to travel within the copier or printer during scanning and printing processes, this is known as the paper path. A RADF copier will have a longer paper path that allows the paper to go through the document feeder a total of three times when processing a double-sided document.
The Pros and Cons of RADF Scanning
There are various advantages and disadvantages to RADF copiers. Consider the following:
Pros
RADF copiers generally have less initial equipment expense than other types of ADF technology.
They're more similar to manual copiers than the alternatives are, so your transition from manual to automatic document feeders will be easier on your workplace and employees.
Cons
These machines tend to be slower than alternatives because the original document is essentially running through the document feeder three times in order to scan both sides.
RADF document processors misfeed more often because the document feeder's paper path is approximately three times longer than a single pass document feeder.
Pages are unlikely to process if there are any imperfections such as damage or crinkling in the documents.
Because of the extended paper path and paper feed issues, RADF machines become damaged quicker than the alternatives and have higher service costs associated with them.
What does DSDF Stand for?
An alternative to the RADF scanner is the Dual Scan Document Feeder, frequently referred to as DSDF or single pass scanners. DSDF scanners have been growing in popularity and are being used more and more by large manufacturers like Canon, Konica Minolta, Kyocera, Lexmark, Samsung and Sharp.
Machines that utilize Dual Scan Document Feeders have two scanners embedded within their structure. This means that unlike RADF copiers, DSDF machines can quickly scan or copy both sides of a double-sided page at once without the need to reverse the page.
The first scanner is embedded into the document feeder itself. It scans your pages immediately as they are fed into the copier. The second scanner is situated on the other side of the glass and takes a copy of each page at the exact same time as the first scanner. No reversal of the page is necessary; instead, each page of the document can be fed through without interruption. Creating a shorter paper path and faster processing time.
The Pros and Cons of DSDF Scanning
There are many benefits to using a DSDF copier.
Pros
Documents can be scanned and copied quickly because there's no need to wait for the pages to reverse.
There are a wide variety of trusted manufacturers, such as Kyocera, Lexmark, and Sharp that have incorporated DSDF options into their product lines.
Documents follow a paper path that's roughly 70% shorter than that of a Reversing Automatic Document Feeder, this causes significantly less wear and tear on the device.
Since the originals don't need to reverse, there's a much lower chance of the misfeeds that occur in RADF scans.
Damaged or crumpled paper will feed through without errors due to the shortened paper path of the DSDF.
Cons
DSDF technology can have a slightly higher initial equipment cost. Averaging around $150-$200 more than devices that are configured without a Dual Scan Document Feeder.
Which is Better for Your Office?
As you can likely guess by comparing the pros and cons of each document feeder type, DSDF is considered the most efficient choice by industry analysts. It's much faster and more effective than RADF, while also requiring less maintenance and showing a longer lifespan.
There are a few reasons that an office may still be interested in an RADF scanner.
Budget restrictions may cause an office to see RADF scanners as a viable option for their needs
Some copier or multifunction printer models may not have configurations that include options for Dual Scan technology yet.
Low volume scanning in some offices may make DSDF unnecessary. If there's low to medium volume scanning, then there may be no real need for the added efficiency of dual scanning.
While there are merits to both RADF and DSDF copier and multifunction printer options, going with DSDF is ultimately the more productive choice. RADF document feeders simply can't match the efficiency of having two full scanners built into a document feeding system.
Click here to contact us and consult with American Office Solutions' knowledgeable team of experts to determine which copier, multifunction printer or scanner configuration is right for your individual office needs.